The workbench is the best place to start any DIY project. It's where your ideas come to life and become reality, which isn't exactly simple or easy, thus it is important that you invest in a good workbench. This article will help give you some ideas on how to upgrade your current workbench and make it more useful and efficient!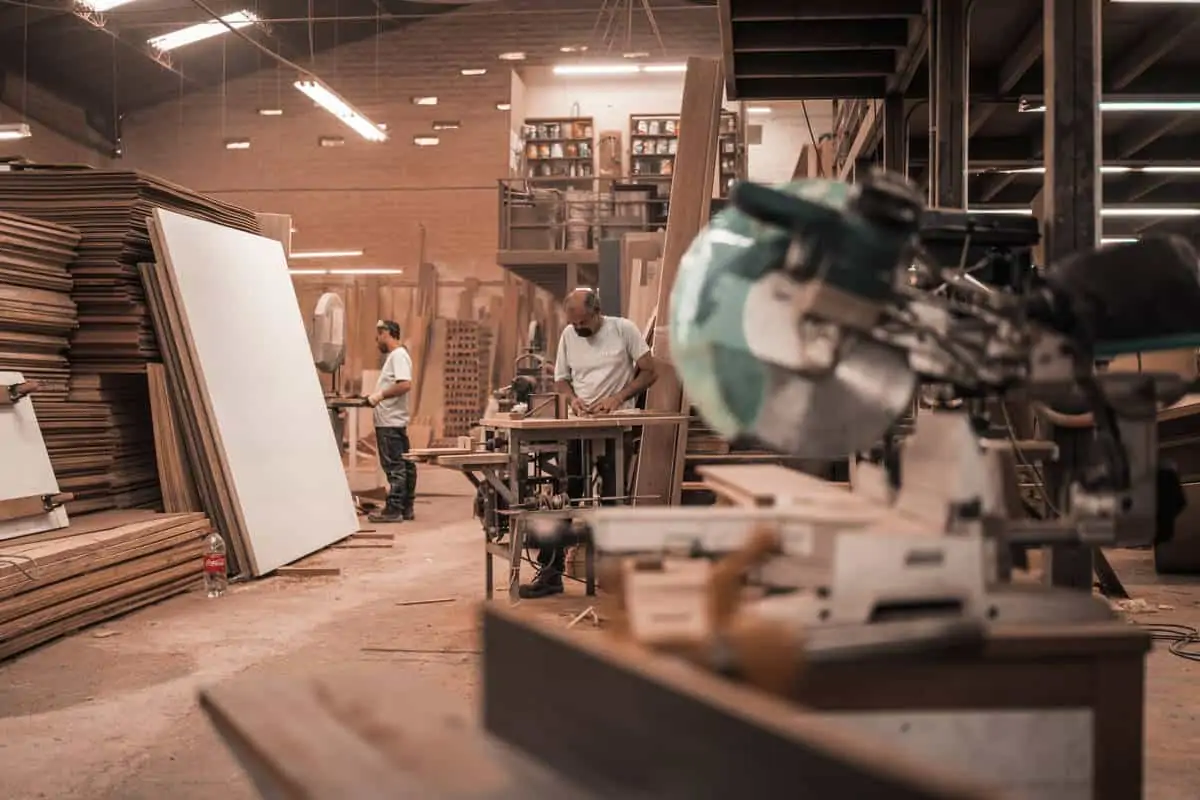 1. Woodworking Workbench (Metric & Imperial) Plan
The first thing to know is that there's a lot of variety in terms of need and a big factor that affects this is the type of measurement you use according to where you live or want to build.
When purchasing or building one, you will need to choose what measurement system you want to use. With a workbench plan in mind, you save yourself some trouble by getting one that has either or does both, with imperial measurements (inches) and metric (millimeters).
2. DIY Wood Workbench
A basic project that one can begin with is a DIY wood workbench itself. All you will need is the plan, tools and materials, some woodworking experience, and 2-3 days to complete this project.
If you think you're not ready for that yet or aren't that patient, then there are several 'ready-made' benches you can purchase but ensure that it is suitable for the job you want it for and the workspace in which you will be using it. If you're going for your first ever workbench or just aren't sure about what to go for, it's always best to opt for a simple customizable design that you can upgrade as your skills increase.
3. Easy to Build Workbench Upgrades
The following are some easy ways to make your workbench a bit more functional.
Add a Vise to the Workbench
A vise is an important addition that gives you something to secure down items that need working on or drilling into, plus it frees up both of your hands giving you more room for other tasks around the workshop. The vise is a very important piece of equipment for your workbench.
Workbench Drawers
This upgrade gives more storage space to your workbench. You can purchase or build custom drawers of any size you want and they'll be useful for keeping your tools nearby and within reach.
Tool Board or Box
Adding a tool board on the front of your workbench is a great way to keep track of hand tools, screws and nails. The purpose of adding these simple upgrades to your existing workbench is to enhance its overall functionality and increase storage options without having too much clutter around.
Lamp or Magnifying Glass
This is optional but useful for working on small projects; you can install a lamp near your workbench or attach a magnifying glass to the top of your workbench. Both are great for getting extra light onto your project and allowing you to see more detail when it comes to working with more complex, intricate pieces.
4. Folding Mobile Workbench
If you lack a lot of space in your workshop and are having to move your workbench out of the way for other projects, it can be a hassle. A great solution is to purchase or build yourself a folding workbench that you can quickly unfold and set up anywhere in your workspace to quickly make up space.
These benches are always best to buy as opposed to building yourself, as you want something that will fold up neatly after use and hold itself in place without taking too much room or weight.
5. Inexpensive Workbench
If you're on a budget and can't afford a new workbench or don't want to bother with the costs of building one yourself, there is always the option of finding an inexpensive bench.
Many of these are built with plywood and have a flat top to work on, perfect if you're just starting out or need something temporary until you have enough money to purchase something better.
As with anything else in life, it's important not to scrimp on quality so do some research before buying one of these cheap benches as they are often limited in their functionality compared to more expensive workbenches with complex designs.
6. Simple Workbench
An absolute no bells and whistle straight to the point workbench. Simple benches are economical and do the job they're meant to; perfect if you plan on upgrading your current workbench with one or more of the suggested upgrades above in the future.
These benches may be made using plywood or just raw timber, but keep in mind that these will, more often than not, lack storage space for keeping all your tools nearby. If that's what you need then it might be best to look elsewhere.
7. Space-Saving Flip-Top Workbench
A flip-top workbench saves you space and provides a home for your tools. The flip-top can be placed on the ground to provide a nice flat working surface that is at waist level; it essentially flips up and locks into place when opened.
It's important to select one of these benches with legs that extend out for adequate support and won't tip over like cheaper models typically do.
8. DIY Plywood Multifunction Workbench Plans
When buying a workbench plan, you might be interested in choosing one that includes more than just the basics. These plans cover a wide range of construction styles, allowing you to choose what best suits your needs.
9. Ultimate Workbench
If looking for a workbench that has everything, including a sliding compound miter saw and drawers galore, this is the workbench for you. The plans are comprehensive and include detailed instructions along with pictures.
Perfect for the more advanced woodworker or professional who is looking for a way to streamline their woodworking process and their work to them isn't just a hobby.
Features that this workbench most definitely includes are: Sliding Compound Miter Saw, Electric Compressor and Air Hose Storage, and Under-Shelf Storage with Drawers and Cabinets.
10. Fast and Easy Woodworking Workbench Improvements
Sometimes you don't need a lot of features and instead wish for a simple workstation that offers you easy and quick access, improving your workflow and getting you out of the workshop faster. A key feature of any workbench is to offer sufficient stable flat space for cutting, and storing your work materials. This workbench plan is straightforward and offers a 'no hassle' way to get what you need.
It includes having a plain surface with Bench Dog Holes, Vises, T-Track and T-Track Accessories, Mountable Dust Couplers, a Silicone Mat, Workbench Casters for portability, and a built-in Cabinet for storing small items that you use often. Make sure the cabinet does not extend in length more than the benchtop or else it will become a nuisance during work. It is also recommended to leave significant space between the workbench top and cabinet for you to be able to use the cabinet's top as a shelf to easily reach your tools without having to keep them on the top of the workbench taking up space.
FAQs
What should I make my workbench top out of?
Your workbench top should depend on what you plan on using it for. If you're a carpenter you're more likely to want a workbench that's extremely functional. In this situation, a sheet of 3/4-inch medium density fiberboard (MDF) would be great. It can handle any burden and has a smooth, scratch-free finish that won't scratch the wood. Add a layer of beeswax to the finish for stain and paint repellent. 
Also Read: Best Finish for a Workbench
If you're more concerned with style than functionality, go for plane pieces of thick hardwood with some beautiful grains and cut the boards to length. To make a solid top, use a biscuit joiner to fit the components together. Make a fantastic-looking work surface, by applying a Danish oil stain and wax to the top.
As garage benches do not need the same durability as a dedicated workbench, The top can be covered with wood planks, which are standard 2-by-6-inch pieces laid side by side to cover the area. It may support almost any weight and maybe cut on top of. It's also hefty enough to mount bench-mounted tools.
Crafter benches, on the opposite, are more likely to be set up for particular tasks. While a 3/4-inch plywood top is ideal for any type of top material needed by your particular craft. A sheet of metal may be attached to the plywood with screws for crafts like metalwork or any other heat-related activity. Similarly, A scrap piece of carpet may be stapled to the top for more fragile projects.
What is important to look for in a good workbench design?
A good workbench should be made of durable material and be at a comfortable height for your build. The workbench itself should be sturdy and stable on its legs without any wobbling or shaking. The design should be large enough to accommodate your tools and workpiece. The bench should be easy to clean and include useful features like a vice, and a heavy-duty tool tray.
How thick should my workbench top be?
For a general workbench, a single layer of 3/4" plywood is sufficient to provide proper support. It should be at least 24" deep, allowing you to utilize a single sheet of plywood to make two workbench tops. In most cases, It's difficult to operate on a workbench that is more than 24″ deep.
For a carpenter's workbench, you don't need to use hardwood plywood for the top layer of the workbench top; however, you could use MDF or some other plywood with a hard surface. Other layers may be constructed of 3/4″ thick softwood plywood. If you're trying to keep the cost down, you might go with three layers, resulting in a finished thickness of 2-1/4″. Though, it would be great to decide on a 3 inches thick (4 layers) workbench top.
What's a good height for a workbench?
There are 3 common types of workbench heights. Low (29" – 30"), Average (34" – 36") and Tall (38" – 39").
A low workbench is fantastic for manual labor, particularly hand thickness, since you may rest your body weight on it. While an average height workbench is the most common height used as a general-purpose bench, high enough for handwork and low enough to keep your back comfortable. On the other hand, people who work while standing, such as doing detailed labor, cutting joinery, and using power tools, generally use a tall workbench.
Conclusion
A good workbench is a bench that you feel comfortable working at. It provides a stable and reliable work surface for your projects. Hopefully, you were able to find what you were looking for here and feel ready and excited for some upgrades!
Other Recommendations:
I am a woodworker with over 21 years of experience crafting everything from furniture to ornamental pieces. I take pride in my ability to bring out the beauty of the wood I work with, creating unique and lasting objects. My passion for woodworking has been a life-long pursuit and I strive to push myself further and further with each new project. I am dedicated to the craft and take great satisfaction in the final product that I create.Read More.