If you are in need of some new and innovative lumber storage ideas, then look no further. This article provides a variety of ideas to help you organize and store your lumber in the most effective way possible.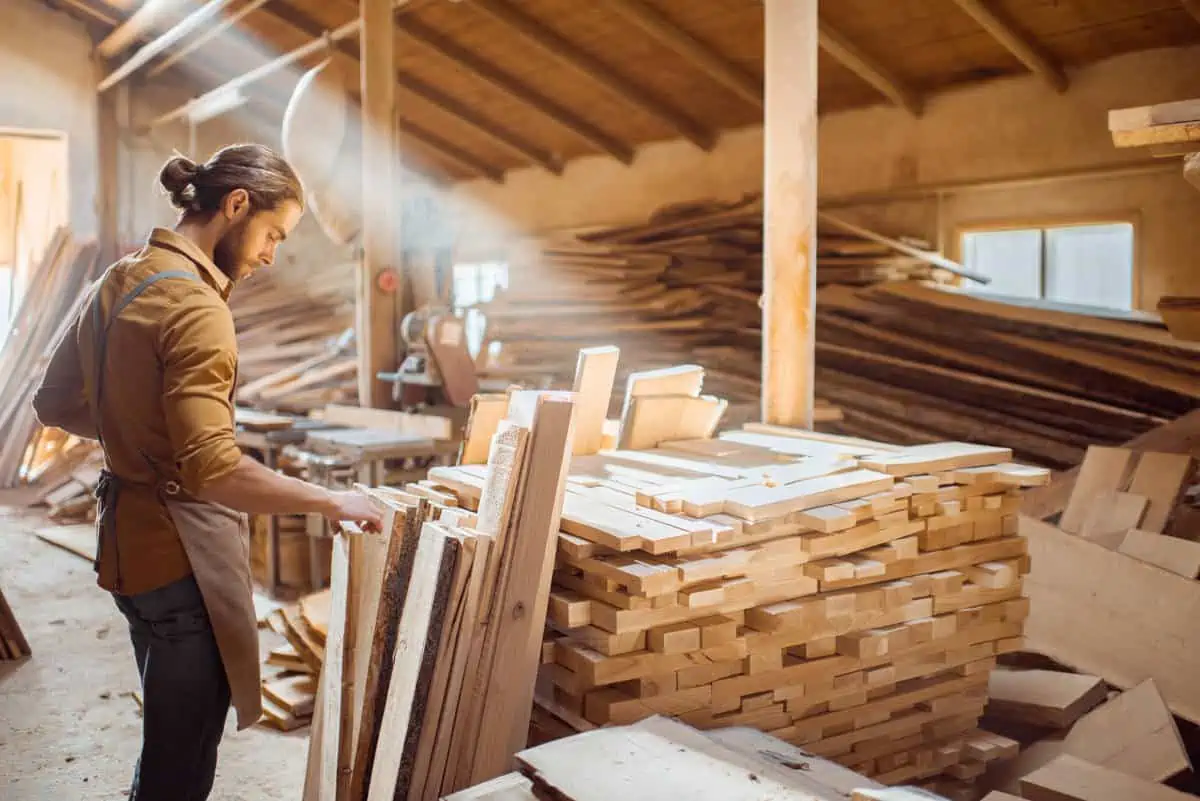 So let's jump right into it:
10 Great Lumber Storage Ideas
1. Wall Mounted Lumber Rack
First on the list is wall mounted storage options and for a good reason. This is the ideal way to store lumber. The rack-mounted to a stud in your wall will not only save space but will also give you the best access to the lumber you need.
You can buy these at most home improvement stores, or you could even make your own. Following are four different wall mounting lumber rack ideas that you can use:
Lumber Rack with Whiteboard Wall
When working on projects, you may end up with a lot of different types of wood sheets of different sizes. Keeping track of all of it can be a hassle, that is until you use a lumber rack with a whiteboard wall behind it as the background.
This way, you can easily write down and edit your labeling of the type of wood, the size, or even the date of its cutting.
Simple DIY Lumber Rack
If you are having trouble finding or affording a wall-mounted lumber rack, don't worry, you can easily make your own. This DIY rack is simple to make and only requires a few pieces of wood, a drill, some screws, and pipes.
Mark and drill evenly spaced deep holes in longboards of wood. The holes should be sized according to the size of the pipe's mouth so that the pipe can fit tightly into the hole and act as a shelf to support the stored stacks of lumber.
Screw the prepared wood boards vertically against the wall and insert the pipe into the holes you drilled, creating a shelve. You now have a sturdy and simple lumber rack to store all of your lumber horizontally.
Cantilever Lumber Rack
This is a very neat and durable rack. It is more time-consuming than the options mentioned above, but it is worth it. It is perfect for both long and short lumber storage.
Its strong structure consisting of broad brackets secured to the frame screwed against the wall studs with heavy-duty screws and bolts can easily and securely hold any oddly shaped and heavy stacks of wood.
Vertical Lumber Rack
As the name suggests, instead of a horizontal rack system, this rack stores lumber vertically. This can be a great way for you to save space in your shop. However, the thing that makes it really great is that it's actually adjustable, meaning you can change and adjust its dowels to better fit and support the size of lumber you are storing, according to its height.
This is a very easy-to-build rack and will offer you an amazing, easily accessible storage space. Similar to the second option mentioned above, you will have to screw wooden boards with drilled holes in them to the wall studs vertically.
The only minor difference this design will have is that the boards will have a lot of holes that will be placed more closely, and instead of metal pipes, this will use small sticks that will be moved around according to your needs.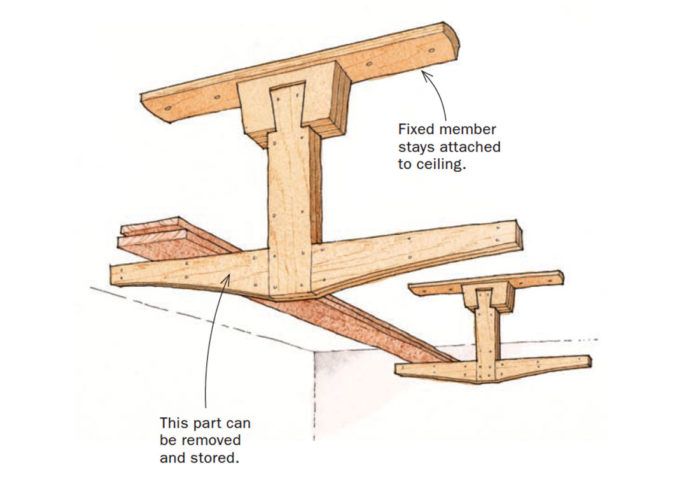 If you don't have space on your wall for a mounted rack or just don't want to go that route, you could always try a ceiling-mounted rack. Shaped like the letter T facing downwards, it is mounted to the studs in your ceiling.
This rack, installed as a pair of two, can hold a lot of weight, making it perfect for storing large and heavy stacks of lumber on either side of it. Just make sure when storing that you place the stacks of lumber properly so that they don't fall and cause any accidents.
If you are looking for a sturdy storage unit that perhaps you won't often need or immediate access to, then consider installing an overhead lumber rack. It's wide, sturdy, and affordable, being made only using a few planks and screws.
It is designed in a way that the longboards of wood are stored parallel to the rack, with the shorter boards nested in between them. You may insert and remove the pieces from two open areas, the side and front. This is a great way to store both medium-long and short-length lumber if you have the ceiling space and design for it.
4. Easy DIY Lumber Storage – Made from Scrap Wood
This is a great lumber storage rack for those on a tight budget and also for anyone who is just starting out and doesn't want to invest a lot into lumber storage. All you need is a few pieces of wood lying around, leftover from previous woodworking projects, a drill, and some screws.
There are two designs that you may choose from; one is a set of two wall-mounted shelves, one for long pieces of wood and one for short pieces; the other is a rolling cart. Which one you choose should depend on the amount of space you have and your needs. Both designs' structure is simple and easily assembled, made only from a few straight pieces of wood.
The first option is structured in a way that each wall-mounted bracket consists of three wood pieces where one side is secured to the wall studs, and the other two pieces offer support to your storage. Use a pair of two brackets for a smaller-sized shelve, and use a set of three, spaced a little further apart, for a larger one.
The rolling cart is more complicated to build but is another excellent way to store lumber if you have the space for it. It consists of a frame made from wood, with four wheels attached to the bottom. The frame will be divided into two main sections where you may store short and longer pieces of lumber separately; however, you may also include a section where you may place wide and thin sheets of wood.
Another budget-friendly idea, if you have spare pallets laying around yourself or if you know someone who does, is to create a lumber enclosure tower. This option is not the cleanest or most good-looking one, but it gets the job done and is a great way to attain a good storage space with minimal expense and effort.
You'll only need two and a half medium-sized pallets and a few screws. With only a little disassembling and reconstructing involved, the pallets will be secured together to form the tower that provides two sections for storage, one for long pieces of lumber and the other for the short ones.
If you are looking for a more permanent and industrial storage solution, then a metal storage rack is what you need. It is extremely sturdy and can hold a lot of weight, perfect for storing large stacks of lumber. The rack is built in a way that the boards can be stored both horizontally and vertically.
Though quite large, this is a great storage option if you have a lot of space in your workshop for it. This durable and sturdy option also consists of multiple sections overlapping with each other giving you more than enough storage space for your lumber.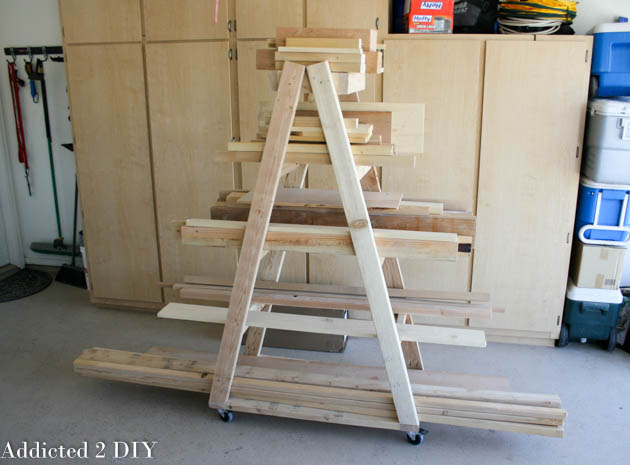 A portable lumber rack is a great solution if you are frequently switching your workshop gear around or if you need to move your lumber storage regularly. Although it is not very impressive looking, it is a highly innovative option.
This rack is shaped like a triangle with multiple shelves for different-sized wood storage, and of course, it also includes two wheels on the bottom for the added mobility benefit. A rack 68″ tall will easily accommodate five spacious shelves and won't even require any fancy equipment.
All you need is some wood, screws, and wheels. The three sides of the triangle will be created separately and then assembled together to create the final product.
This one will take up quite a lot of space but will definitely leave a lasting impression on whoever visits your workshop. The lumber cart has a large and sturdy structure, with different sections that can hold a lot of weight, perfect for storing more than just a few stacks of lumber.
Its design is quite elaborate, with a pegboard for hanging tools or gear, open cabinets for supplies such as paint cans and small boards of lumber, and a large section with dividers for larger pieces of wood. Another great thing about it is that you can also add wheels (preferably 6) and handles to move it around if needed.
This rack is definitely a more complicated build than the other solutions, but it will be worth it. The lumber cart is perfect if you have the space for it in your workshop.
While you may make the storage rack all tidy and fancy, it doesn't help change the fact that scrap pieces of lumber stored visible to everyone may be an eyesore in your workshop. This can be remedied by building a workbench with a built-in storage system, hiding all the unsightly lumber out of view.
The workbench can be designed and built in any way you want; however, a good option would be to make a multipurpose one. Inside, it should have two main areas, with one being longer in height compared to the other one. The large area should be used to store big boards of lumber while the other shorter section should further be divided into three sections adding three shelves for lumber storage of smaller pieces.
Both areas should be covered from the top to create two tabletops of different heights, where you may display your tools or any other small pieces of equipment you may use while working. Add a pegboard on the wall in front to hang even more tools and supplies. This is a great solution if you are looking to kill two birds with one stone.
10. Ultimate Lumber and Plywood Storage Cart
This design is massive and on wheels! It has a large base area and is quite tall, too, with multiple sections, so make sure you have enough space in your workshop before even considering this design.
On one side, it has several bins for storing small pieces of wood; on the other side, it has three racks for storing long pieces of wood, and in the middle, it has a large area for storing big boards or sheets of lumber. The best part about it is that it rolls around on wheels, making it easy to move it around as needed.
Conclusion
These are just a few of the many storage solutions you can create for your lumber. No matter what your needs are, there is sure to be a design plan that will work perfectly for you.
See which one is the most suitable for you according to your needs and situation, then get the plans for it and start building! Get ready to have a tidy and organized workshop in no time.
Other Recommendations
I am a woodworker with over 21 years of experience crafting everything from furniture to ornamental pieces. I take pride in my ability to bring out the beauty of the wood I work with, creating unique and lasting objects. My passion for woodworking has been a life-long pursuit and I strive to push myself further and further with each new project. I am dedicated to the craft and take great satisfaction in the final product that I create.Read More.