Looking to set up a functional and creative basement workshop? Whether you are a woodworker, painter, or designer looking for an organized space to create, there are several different basement workshop ideas that you can choose from to get started. So let's take a look at them: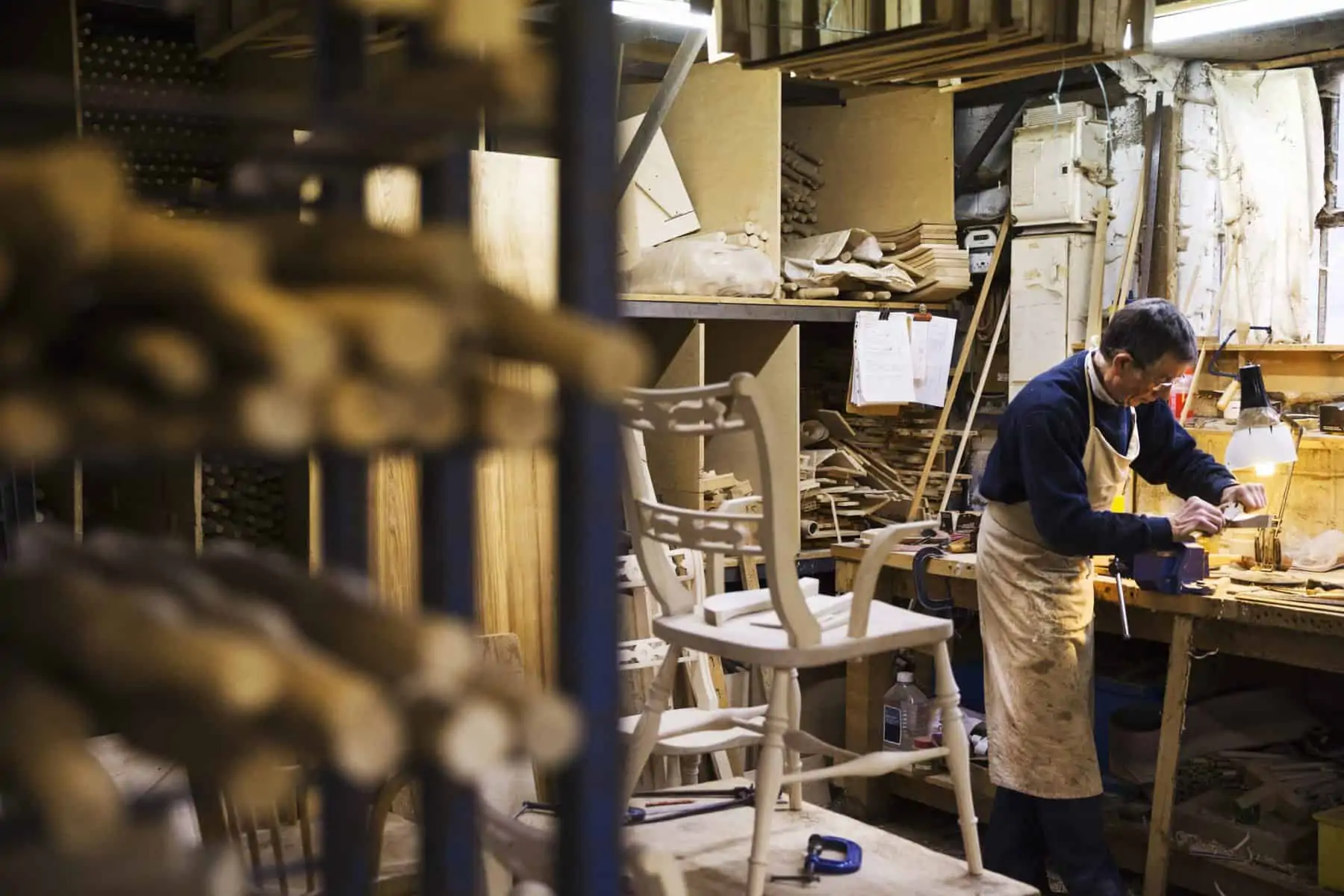 14 Different Basement Workshop Ideas
1. Basement Workshop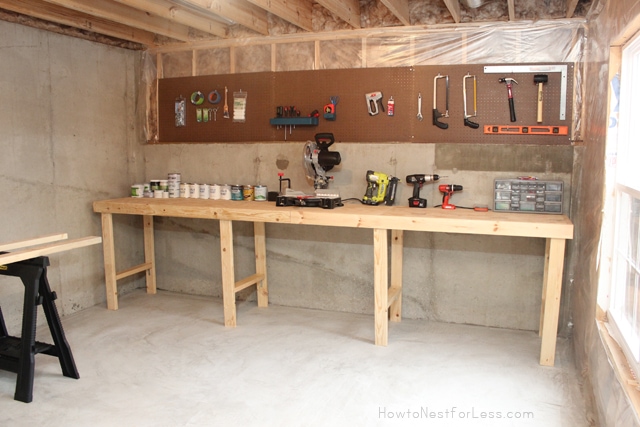 This idea is of a simple and functional workshop. It has a reliable, durable concrete floor and plain bare wooden walls that can be used to attach a long pegboard to its surface. This will help to declutter your working space and also make it look more organized. There are many organizational bins and racks available in the market which you can hang on the pegboard to sort out your nails, screws, and other small hardware.
A long workbench can be placed right under the pegboard, against the wall. You can use this workbench to do your woodworking, display your heavy power tools on it; or do both. Add in a rack inside the workshop if you need more storage space for your lumber or other materials. Check out the website 'how to nest for less' for detailed instructions and pictures on this basement workshop idea.
2. Basement Workshop with Floor Plan
This idea will cost you more as you will need to install a few things, but it will be worth it in the long run. Floor plans help you to be more organized and neat. Start by creating a floor plan of your desired workshop area on paper. Next, use it to determine where you want to place your workbench, other pieces of furniture, or equipment.
If you already have or plan to have a dust collection system then it's recommended to divide your workshop into two sections, keep all power tools that create a lot of dust in one section, where you've set up the dust collectors and put the other ones in another section. This will help to keep your workshop clean. Set up your workshop in a way that you wouldn't need to move your equipment around too often.
To learn how to create the dream woodworking workshop, check out the 'woodcraft' website to see their 'Bright Ideas in a Basement Shop'. Mark Koritz workshop plan is a great example of an organized and well-thought-out basement workshop.
3. Feature-Filled Basement Shop
This idea is about making the most out of the limited space you have but in a more sophisticated way. Again, start by creating a floor plan but this time make sure to include all the features you want and need in your workshop.
The most essential feature you'll need to have is a multifunctional workbench, placed against the wall having cabinets and drawers underneath it, and the wall above should have a large surface (extending throughout your workshop) covered with pegboards that will be used for hanging your equipment. Installing wall-mounted cabinets will save a lot of floor space while giving you more storage options.
To learn more, check out the 'Wood magazine's website to find out about this 'Idea Shop 3: The Basement Shop'.
4. Great Basement Workshop
Similar to the feature-filled basement shop, this idea is about utilizing the space you have as effectively as possible. Just look at what you have and use it to your advantage. This workshop idea is about using all the wall space, corners, and small areas you may have inside your basement, it doesn't matter if the ceiling is low there, just put some head protection there; those places could be used for lumber storage.
This workshop should have a lot of long and sturdy wall-mounted see-through cabinets and drawers that would be perfect for storing tools and other materials. The idea is to make working comfortable. It offers clutter-free benchtops. In fact, there's also a sheet storage rack that has a roller attached to the side to make it easier to use.
A lot of the furniture installed in the workshop is handmade and crafted according to the space available. If you think this workshop would be the perfect one for you, check out the video 'Shop Tour 2014' on the youtube channel 'Bellevue Woodshop'.
5. Building Basement Workshop From Scratch
This is the most challenging basement workshop idea, but also the most rewarding one. If you've recently moved or are a beginner in the woodworking industry and need to start from scratch, don't be discouraged. Building your workshop is a great way to get exactly what you want and need out of its design.
For instance, in regards to benchtop heights, working on smaller benchtops can be extremely uncomfortable and may cause long-term damage to your back, this way you can create the perfect environment for you to work in.
Pay attention to the lighting as well, bad lighting strain your eyes so make sure to have enough light sources. For a thorough step-by-step guide on 'building a workshop from scratch', head over to the 'instructables' website and check out the tutorial posted by 'dwj300'.
6: ManMade Workshop from Dark Basement
One of the most important ideas to consider when planning a basement workshop is lighting. For any woodworker to do his job properly and efficiently, he/she must have adequate lighting. This man-made workshop design's point is of turning a dull and dark basement into a bright well-lit one.
Drywall is a common way to brighten a basement, its white color instantly makes spaces appear larger and brighter. Furthermore, drywall is also fire-resistant, inexpensive, low maintenance and provides sound and temperature insulation. This idea also includes thinking about your flooring, while concrete is durable, it is also hard, thus when your tools fall, they may get damaged.
A good way to avoid that is by installing a basement subfloor which is comfortable to stand on, thin, easy to install and has sound-dampening properties. If this idea interests you, read the article 'A Dark Basement Becomes the New ManMade Workshop' on the website 'Man Made DIY'.
7. Basement Workshop with Storage Ideas
This idea is focused on how neatly organizing your workshop is a priority. This can be done by dedicating certain areas for specific purposes and using the available space as efficiently as possible. There are many ways in which you can keep stuff within arm's reach without sacrificing your workshop's looks.
All of the methods that are suggested in this are about focusing on small details that will come together to give you a great workshop in the end. So if you are interested in upgrading your workshop into an aesthetically pleasing and organised one, check out the article 'Basement Workshop Tour – she ain't pretty but she's functional!' on the website 'interior frugalista'.
A workshop can never be pretty (at least a functional one cannot), but this article will help make it look the best it possibly can.
8. Small Basement Workshop
One of the main issues in small workspaces is that it is often cluttered causing you to constantly trip over stuff. You need to carefully plan and organise stuff so that things are out of the way. This way you can move around easily and have a much safer working environment.
Pegboards and cabinets are your best friend in this case, they help you make use of the vertical space and give you well-organised storage space for keeping all your equipment. You may also create an in-wall-rack that slides out, giving you easy access to whatever is kept in there whenever you need it, and can be stored away neatly when you don't.
If this is something that interests you, make sure to check out the youtube video titled 'The Workshop – Ep1: Tour of my small basement workshop and future plans for it' posted by the channel 'Busy Dads Workshop'.
9. Workshop with Pegboard Wall Storage
While other ideas focused on many different aspects, including pegboards, of creating a great basement workshop, this one is particularly focused on how to maximize a pegboard to its full potential.
A majority of workshops are equipped with pegboards, because these are very versatile pieces of furniture that can be used to store a range of items; however this idea is about creating a wall frame covering most of the workshop and then attaching pegboards to it.
It is suggested to use white-colored pegboards, this will give your workshop a neater and spacious look. There are a number of other great ideas about how to use pegboards such as adding shelves to the pegboards. For more information on this make sure to check out the article 'Building a Workshop with Pegboard Wall Storage' by the website 'Forever Home Fix'.
10. Creative Basement Workshop
Many of the ideas may have been geared towards only making your workshop look organized and clean, while this one is more focused on creating a creative and fun-lookig space for you to work in. One of the best ways to do this is by making sure that there is ample lighting in your basement and that the color of the walls and floor is light reflective.
Along with this, you can add some fun elements to your basement. For instance, paint your workshop's white walls with fun and cool patterns using bright colors such as blue and orange. The white-colored interior will make your basement look spacious and will also help the patterns stand out more, complementing each other.
For more information on this, you can check out the article titled 'My Basement Workshop.' posted by ' Elsa Mora' on her Blogging website.
11. Basement Workshop by DIYTyler
A woodworker with a youtube channel has quite a roomy and impressive workshop setup and this idea is about how you can achieve something similar.
His workspace truly looks unique and different from others. If you desire a really cool-looking basement workshop setup, check out the video 'DIYTyler 2017 Basement Shop Tour' to learn about his workshop's style.
12. Small Workshop Reno
This is a before and after article that details how one can completely change his small basement workshop and turn it into something amazing by creating smart, clever and innovative features.
There is a lot of insight and ideas that this guide can provide you with if you are planning to renovate your basement. So check out the video titled 'How to Make the Best Use of a Small Space – Small Workshop Reno: Budget Renos #04' uploaded by the youtube channel 'Handyverse'.
13. Basement Wood Workshop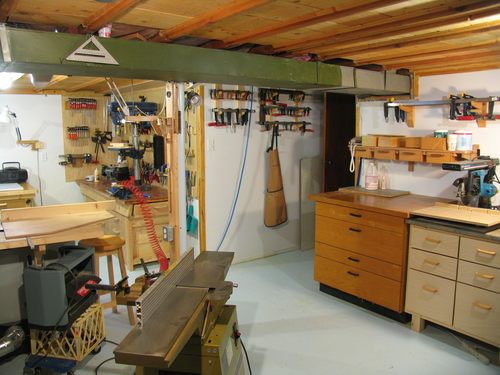 This workshop idea will show you how to set up your workshop in a way that will make anyone, who's a bit OCD about stuff, satisfied. Everything is organized in a very neat and tidy manner; the organization of the workspace is neatly done.
There are ample storage options available via a lot of different-sized drawers. If this sounds like something you might be interested in, then make sure to read the article 'My basement workshop (2009)' on the website 'Wood gear', and also check out the video in it that shows how the design is working after a year.
14. John's Basement Workshop
This is another great example of a small basement workshop that has been set up in a very practical way, with a lot of planning before the actual setup. Again we see ample storage space created and a great deal of it via wall-mounted racks and shelves that are present in the workshop.
You may check out the article titled 'John's Basement Workshop' by John Gravatt on the website 'The Wood Whisperer' to learn more about this workshop idea.
Conclusion
There are several different basement workshop ideas that you can choose from depending on your needs, wants, and budget. Each one of the ideas mentioned above provides unique benefits and features that can help you create the perfect workspace for you.
Whether you are looking to set up a creative space or simply desire an organized and tidy workshop, there is definitely an idea here that can help you achieve your goal. So go ahead and choose the one that best suits your needs and start working on your dream basement workshop today!
Other Recommendations
I am a woodworker with over 21 years of experience crafting everything from furniture to ornamental pieces. I take pride in my ability to bring out the beauty of the wood I work with, creating unique and lasting objects. My passion for woodworking has been a life-long pursuit and I strive to push myself further and further with each new project. I am dedicated to the craft and take great satisfaction in the final product that I create.Read More.