Woodworking can seem out of your depth but with the right resources, you can begin to truly understand this hobby or DIY activity effectively. The internet is full of information on woodworking from blogs to videos but with that sheer volume of information available, it can seem impossible to know what is correct and useful and what is not. Learn the best woodworking books.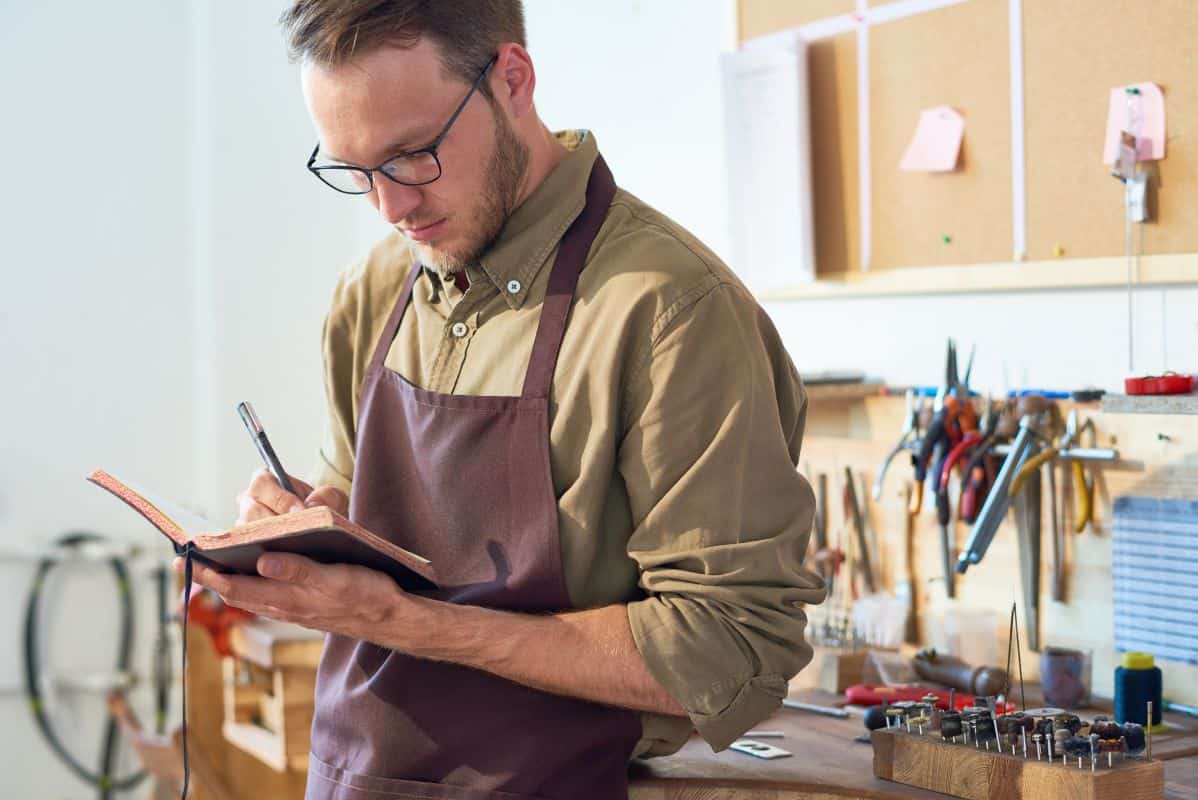 There is no substitute for quality and well-researched books and we have found the best woodworking books to help you find a comprehensive resource that you will always be able to refer to.
Books do not require a stable internet connection to work and in order to be published the information is more verified than you would find generally online which can be written by anyone and could be completely inaccurate.
A quality woodworking book will be able to assist you whether you are a beginner or an advanced woodworker. It should contain plenty of information, tips, and tricks to setting up your woodworking shop and educate you about available tools and how to use them.
You should be able to find information on types of wood and what projects suit these wood types best. Additionally, you should find various projects to try out complete with pictures and step-by-step instructions for guidance.
Basically a woodworking bible of sorts that you can always go back to. See our top recommendations for the best woodworking books here.
COMPARISON CHART
IMAGE
PRODUCT

The Complete Book of Woodworking

Detailed project plans
Step by step instructions
Good solid foundation

CHECK PRICE ►

Woodworking: The Complete Step-by-Step Manual

Good introduction to basics
Detailed project plans
How to set up your shop

CHECK PRICE ►

Great Book of Woodworking Tips

Clear illustrations of what to do
Wisdom / advice from experienced woodworkers
Useful for novice to expert alike

CHECK PRICE ►

The Joint Book: The Complete Guide to Wood Joinery

Great spiral bound book
Lots of detail on joint types
Step by step instructions

CHECK PRICE ►

Good Clean Fun: Misadventures in Sawdust at Offerman Woodshop

A fun woodworking book
Lovely photography
Step by step projects

CHECK PRICE ►
Features
A comprehensive guide filled with information for woodworkers of all levels
More than 40 projects, with detailed plans and materials lists for both indoor and outdoor furnishings
Over 1,200 photographs, step-by-step instructions, helpful diagrams, and illustrations throughout 480 pages
Expert advice on setting up shop, safety, using tools, making jigs & joints, applying finishes, and more
The Complete Guide to Woodworking features detailed plans for 40 stunning projects for woodworkers of all levels, plus more than 1,200 step-by-step illustrations across 480 pages. For beginners and experienced woodworkers alike, this is the ultimate step-by-step guide.
From the principles of basic design to techniques to a gallery of 40 complete plans for fabulous woodworking projects, this thorough and attractive book provides all the information you need to become a master woodworker and have a houseful of fine furnishings to show for the effort.
WHAT WE LIKE
For the various projects, you can find materials listed that you will need, different ways of building, types of stains, and step-by-step instructions to help you on your woodworking journey. This gives you a solid foundation in wood and woodworking and the foundation to become autonomous.
Very detailed and well-illustrated and highly recommended as a reference book for a beginner-intermediate woodworker.
WHAT WE DON'T LIKE
Aside from the legal disclaimer they basically ignore shop safety minimal mention of techniques to avoid kickback and other hazards not likely to be intuitive to beginners. Not organized by difficulty level, so beginners will struggle to figure out where to start.
This book is sort of a one-stop shop for the basics of each topic. If you need more details on certain topics like wood finishes you won't find them in this book.
PROS
Detailed project plans
Step-by-step instructions
Good solid foundation
Well illustrated
Excellent reference book
CONS
Safe woodworking is not detailed
Not organized by difficulty level
Covers basics on techniques only
Features
Understand how to use essential woodworking tools
Choose the right wood for every job
Master key woodwork techniques
Basic and advanced levels including 28 DIY projects
Complete and easy directions for key skills, from simple joinery techniques to more involved woodworking projects, with clear helpful photographs. Key carpentry skills, from simple joinery techniques to fine woodworking projects, through clear, step-by-step instructions and photographs.
New carpenters will learn about the essential tools needed and basic design principles and practice crucial techniques like wood joints, finishing, woodturning, and furniture restoration. Experienced crafters will enjoy enhancing their skills and learning something new.
We'll make sure you choose the right wood for the job and find more than 100 hard and softwoods, plus their properties, in a handy directory.
WHAT WE LIKE
This book is an excellent complement to online videos, it's a good introduction to the basics. It serves as a good starting point and as a resource to return to for basic fundamentals. The plans for the 28 DIY projects are very detailed with excellent photos that you rarely see in such plans.
From setting up your shop to what tools you need to step-by-step project instructions, the text is clear and the pictures are excellent.
WHAT WE DON'T LIKE
The section on wood species contains woods from all over the world that may not be applicable to your region. It has a preference for hand tools and is a bit on the light side regarding using power tools and workshop machines.
American readers should be aware that it is a UK book with British authors so you may find some differing terminology.
PROS
A good introduction to basics
Detailed project plans
How to set up your shop
Clear text and excellent pictures
A good complement to online videos
CONS
Wood types may not be relevant to your area
No detail on power tools/machines
UK book with British terminology
Features
800 color photos and illustrations
Hints to help sharpen your woodworking skills
The ultimate collection of woodworking tips
A book to value for years to come, essential for every woodworker's reference library
This is the essential DIY reference, packed with reader-written woodworking tips and techniques from American Woodworker magazine, the premier publication for woodworkers. This comprehensive guide offers more than 650 ingenious solutions to common woodworking problems.
Supplemented with clear workshop photography, the editors have tested each insightful pointer workplace. Whether you are an accomplished woodworker or just beginning to set up your workshop, you'll find quick answers to all of your most challenging questions.
WHAT WE LIKE
The illustrations and pictures offer absolute clarity on how to do what it sets out to instruct you. The wisdom in this book comes from woodworkers who have a lifetime of experience in using the best practices in woodworking and shop methods.
There is something in it for everyone, from novice to expert woodworkers. It covers many topics about woodworking, gluing, sawing, routing, organization of workspace, etc.
WHAT WE DON'T LIKE
Some items in the books are repeated, which tends to take up extra space in the book. It does sometimes contain some contradictory advice which can be confusing. The editing of this book was not done well.
PROS
Clear illustrations of what to do
Wisdom/advice from experienced woodworkers
Useful for novice to experts alike
Covers a wide variety of woodworking topics
CONS
Some repetition
Contradictory advice at times
Poor editing
Features
Step-by-step illustrated instructions for making all the basic joints in every joint family
Both hand tool methods and power tool techniques
A variety of easy-to-build jigs.
How the nature of wood and its properties affect joinery, glue, and furniture design
The Joint Book provides easy-to-follow directions for creating edge and scarf joints, lapped and housed joints, mortise-and-tenon joints, miters and bevels, dovetails, and dowels and biscuits, plus detailed descriptions of fasteners, hardware, and knockdown joints.
Featuring illustrated instructions for over 70 joints, this spiral-bound book is the perfect companion for any woodworker interested in improving their joint-making skills.
The interior photographs, illustrations, and diagrams make the learning process simple and fun for beginners, while advanced readers will gain insight from the book's useful tips.
WHAT WE LIKE
This is a fantastic little book, a great plus is that it is spiral-bound. It provides great information on many different types of joints including detailed step-by-step instructions to construct the joints. There is a generous amount of complimentary info including joint advantages/disadvantages, and plenty more.
WHAT WE DON'T LIKE
It could stand to have a little more information about the applications of the joints. The drawn-out illustrations could have been replaced with photographs for better reference. It is on the smaller side and does not provide as much detail as you might imagine.
PROS
Great spiral-bound book
Lots of detail on joint types
Step-by-step instructions
Generous complimentary info
CONS
Lacks enough detail on joint applications
Illustrations should rather be photographs
Smaller sized book
Features
A variety of projects for every skill level, with personal, easy-to-follow instructions by the OWS woodworkers
Mouth-watering color photos (Nick calls it "wood porn")
Writings by Nick, offering recipes for both comestibles and mirth, humorous essays, and odes to his own woodworking heroes
Insights into the ethos of woodworking in modern America, and other assorted tomfoolery
After two New York Times bestsellers, Nick Offerma, woodworker, actor, comedian, and co-host of NBC's crafting competition series Making It returns with the subject for which he's known best, his incredible real-life woodshop.
Now Nick and his ragtag crew of champions want to share their experience of working at the Woodshop, tell you all about their passion for the discipline of woodworking, and teach you how to make a handful of their most popular projects along the way.
This book takes readers behind the scenes of the woodshop, both inspiring and teaching them to make their own projects and besotting them with the infectious spirit behind the shop and its complement of dusty wood-elves.
WHAT WE LIKE
This book is fun. There's lovely photography that will inspire you, and several techniques and ideas are not so common in some of the project plans.
But, this book is different because there are also artist profiles, general shop advice, and Nick Offerman's humor and sensibilities throughout. Find step-by-step projects, and they're targeted to a variety of skill levels ranging from the beginner to the advanced.
WHAT WE DON'T LIKE
Don't expect this book to provide a very complete education in woodworking. Also, if you don't have access to a well-equipped shop, you're going to struggle to find things you can do in terms of the projects. Some sections of the book feel like filler and are not very helpful overall.
PROS
A fun woodworking book
Lovely photography
Includes artist profiles and general shop advice
Step-by-step projects
Applicable to beginners and advanced woodworkers
CONS
Not a complete woodworking education
Need a well-equipped shop
Some sections are filler
FINAL VERDICT
Finding a helpful woodworking book can seem impossible with the many available options, but we recommend The Complete Book of Woodworking as our best choice. Overall this book gives you the best general overview of woodworking and is the most comprehensive guide out there.
Find details on woodworking for all levels from beginner to advanced woodworkers. Get 40 detailed project plans complete with step-by-step instructions. There is something for everyone on this project list. Including 1200 photographs accompanying the project plans you will have all you need to succeed in these woodworking projects.
Find expert advice on how to set up your shop, use tools, make jigs, types of joints, and much more. This will definitely become a woodworking go-to resource to help you along your woodworking journey.
If you liked this article about the best woodworking books, consider checking out these other articles below —
I am a woodworker with over 21 years of experience crafting everything from furniture to ornamental pieces. I take pride in my ability to bring out the beauty of the wood I work with, creating unique and lasting objects. My passion for woodworking has been a life-long pursuit and I strive to push myself further and further with each new project. I am dedicated to the craft and take great satisfaction in the final product that I create.Read More.