Anyone can easily purchase a gift from the store; however, there's something quite heartwarming about a handmade gift that makes the receiver feel really special. If you're looking for handmade woodworking gift ideas, we've got you covered. We have a list of 12 ideas that are bound to make any gift receiver happy; these gifts are both unique and practical. The best part is that most of them can be made with basic tools and skills, so they're perfect for even beginners.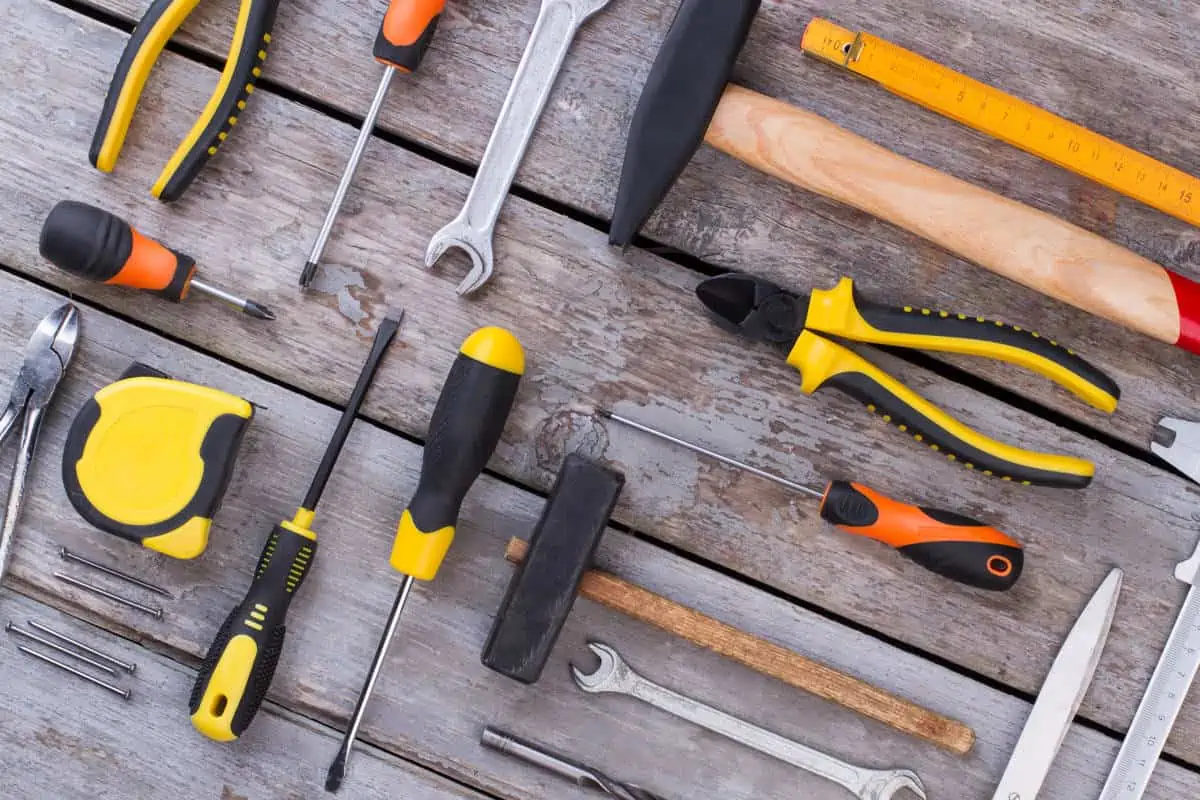 Furthermore, after these, we'll share 12 additional gift ideas, but those will be for carpenters or woodworkers.
So scroll down to check out our favorites!
12 DIY Woodworking Gift Ideas
1. Walnut DIY Knife Block Plans
Know someone who keeps all their knives in a messy pile inside a drawer with other utensils? It's time to give them a woodworking knife block as a gift! This easy project takes just a few hours to complete and is a great way to use up scrap wood.
A walnut finish gives this knife block a warm, rustic look. Just simply mill the parts or use a table saw to get the correct size blocks, then assemble the pieces together with glue, allowing for an hour or two for set periods. Lastly, don't forget to clean up with a finely tuned hand plane after the glue has been set. Apply three coats of oil-based polyurethane to the block and let it dry for a day when you're done.
2. Trivet
A trivet is a very useful hot pad that allows you to place your hot pans wherever you want without having to worry about damaging the surface. It is a small, beginner-friendly project that can be completed with just a few simple tools and materials.
Start by preparing the wood and cutting them into fingers. Now begin cutting slats the size of each finger onto one or two blocks that you have prepared according to your design. Simply apply the glue, place the fingers into the slots, and clamp overnight. The next day you can start routing the curves on the top of each finger and then sand everything smooth.
3. Wooden Phone Charger Stand
This idea is about an extremely useful and elegant-looking phone stand that also works as a charging station and speaker amplifier. The stand is designed to have clever cable routing and additionally distribute any sounds coming from the phone's speaker loudly and equally across a room. However, make sure you have the proper measurements of the phone's size and that your gift receiver's phone's speaker is designed below, near the bottom.
To create this phone stand, you'll have to use a lot of different power tools such as a table saw, miter saw, bandsaw, scroll or jigsaw, and even a sander; since the project will involve a lot of intricate angled cuttings. In order to complete this, you'll first have to cut four pieces of wood and work on them separately before assembling them together and adding the last touches.
4. Salt and Pepper Shakers
Another gift idea that will be a great gift for someone who is moving into a new home. Salt and pepper shakers are not only quite useful to have at the dining table, but they also play a significant role in the aesthetics of the dining area. Thus, a sophisticated-looking wooden set of salt and pepper shakers is a wonderful idea to consider.
For this project, you will have to use two different types of wood, light-colored wood for the salt shaker and dark-colored wood for the pepper shaker. Both shakers are supposed to be designed to be tapered towards the top.
5. Spatula
The traditional wooden spatulas are and will remain to be the best option as compared to the metal and plastic ones. It is an important and durable utensil in the kitchen; however, you can never have too many of them, so a wooden spatula would be a nice new home gift to anyone, especially if it's made by you yourself.
To craft a great-looking spatula, you'll have to know your way around a lathe. You will need to turn wood to make the spatula's handle and add intricate details or patterns to it. You will also need to know how to use a bandsaw and sand wood for this project.
6. Paper Towel Holder
This one is a unique idea and is a marvelous gift for someone who really cares about their home's aesthetics. Also, it's something one isn't likely to already have, so it is also a safe and most likely to be a well-appreciated option too.
A paper towel's design isn't complex, so it is a beginner-friendly project. Furthermore, it doesn't even take up too much time. The paper towel holder consists of a strong round base along with the center post with a finger hole for easy grip when being moved and two shorter stay bars on the sides. The design will require you to work on the four pieces separately before assembling them by drill screwing them together.
7. Wearables
This is a category with a vast range of options to choose from. You could choose to create wood rings, beads for a necklace or bracelet, bangles, earrings, or even a pendant of your choice.
The methods and tools you'll use will differ depending on what type of wearable or jewelry you may decide to create and how you want the result to look.
8. Wood Signs
Wood Signs are used for all sorts of things, sometimes to write an inspirational message, sometimes to write romantic messages, sometimes to convey directions, and even often to write religious quotes from the scripture. While there are different fancy materials available in the market to put signs on, the traditional wooden sign has managed to retain its charm and importance.
There are many different designs and techniques used for wood signs; some have borders, some don't; some are engraved, and some just have the signs painted on. So get creative and create a nice thoughtful signboard.
9. Pencil Holder
Having a pencil or pen holder is quite a handy stationery item to have. Not only does it keep one's desk look organized, but it also makes things easier for them; most people don't even realize how much they need one until they have it, and it ends up making a difference in their daily routine.
So if you know someone who is always losing their stationary or keeps them in a lousy manner, you should consider making them a nice decent looking pencil holder. You may either create the traditional one or drill appropriately sized holes in a small-sized halved log to fit in each pencil or pen separately. Of course, for the latter, you'll have to level out the bottom a little bit so that it's flat and doesn't roll around.
10. Wooden Lantern
These have a rustic and antique feel to them which is something many love and would be delighted to have as part of their decor. Plus, wooden lanterns aren't a complicated project and can be made by someone new to carpentry.
A lantern's design should have five windows, four covering all sides of it, and one on the top to let the smoke pass. Apart from that, it is worth mentioning that dark-colored woods make excellent-looking lanterns.
11. Wall Art
Putting up wall art in a room has an instant effect on the overall look of the room. Wall decor isn't usually cheap, and hanging it up in one's home immediately adds value to it. Fortunately, one doesn't always have to buy expensive wall paintings made by artists in order to achieve this look. A handmade wall art piece made of wood will be a highly impressive alternative.
There are countless wall art ideas on the internet you may take inspiration from for your woodworking project; some consist of beautiful engravings, some are relief carvings, some have been painted on, and more. The list is endless; it's art, so you may run wild with your imagination; just remember to keep in mind the preference of the person for whom you're making this gift.
12. Wooden Mirror
Perhaps this isn't a unique idea, but sometimes it's a good option to play safe when giving gifts. Giving someone a mirror with a wooden frame is a nice basic gift that no receiver would mind getting. There are many places one may hang up a mirror in their homes, such as their bedroom, bathroom, and even hallway, so don't worry if your gift receiver has a mirror already.
There are many different wooden frame designs you may choose to create for this mirror's borders, ranging from minimalist designs to elaborate ones with intricate details.
12 Gift Ideas for Woodworkers and Carpenters
13. Amico LED Garage Lights
Having a well-lit workspace has a lot of benefits, and every woodworker deserves to have at least that. This gift idea is about giving them just that and more. These LED garage lights are super bright and adjustable, providing light to all corners of the garage with its 360° area coverage. Plus, they are heat and corrosion-resistant, meaning they're highly durable. Lastly, the Amico LED garage lights are very easy to install and come with a 5-year guarantee. Choose this gift if you want to be known as a smart gift giver.
14. The RocketBook Dot Grid
If the carpenter to who you want to give a gift is someone conscious of his or her carbon print and wishes to make eco-friendly decisions, this spiral notebook gift idea is exactly what they need to switch to from regular paper copies. The 36-page dotted grid notebook is available in 13 different colors and is completely reusable by simply wiping down any previous writings. Moreover, the smart technology lets you quickly transfer your notes to your phone by simply scanning the pages using the free rocketbook application available for both iOS and Android users.
15. The Suizan Japanese Pull Saw
While there is no doubt about how useful power tools are in woodworking, there are, however, some occasions or situations where you may need to make certain cuts using hand tools. This Japanese pull saw is designed in a way that makes it a lot easier and more comfortable to use as compared to other hand saws. It has teeth on both sides of it, one side has large rip teeth, and the other side has small fine crosscut teeth. The saw itself is quite lightweight and easy to grab. This top-quality saw will be a great addition to any carpenter's toolset.
16. S SATC 5-inch Sanding Discs
Next on our list is a set of high-quality sanding discs. The set includes 20 pieces of each five different grit discs that are able to fit most of the 5-inch orbital sanders on the market. The discs ranging from rough to fine, do a marvelous job of polishing and finishing wood projects. They come in a set of 60, 80, 120, 150, and 220 grit sanding discs and have eight holes in them to offer maximal dust extraction. Furthermore, they have an anti-clogging coating and non-slip backing. This durable and versatile set of 5-inch sanding discs is surely something any woodworker would be thrilled to get gifted.
17. Woodpecker's 1281R Woodworking Square
This gift idea is of a precision square, but this one is unlike any other on the market. The woodpecker's precision square is designed in a way that offers top-notch features. Its smart design offers one to easily scribe lines directly to the board's edge; also, it offers improved handling during squaring-up tasks, thanks to its built-in control slot; lastly, the square is able to rest hands-free even on the edge of the board. The woodpecker's woodworking precision square comes fitted in a wall-mounted wooden case, perfectly shaped in order to be gift wrapped nicely.
18. Dixon Industrial REACH- Deep Hole Mechanical Pencil
As expected, there's a lot of marking involved in woodworking, and often normal pencils or markers won't work. This pencil we're recommending you to give as a gift will be a liver saver on those occasions; it's designed to get into hard-to-reach places like drilled holes and tight corners that need to be marked and works on both wet and dry surfaces. Moreover, additional useful features include a pocket clip and a built-in sharpener. The Dixon industrial mechanical pencil will come in a set of two; the pencil will come with a box containing its refills.
19. GRR-RIPPER 3D Pushblock for Table Saws
This pushblock gripper offers safe and smooth cuts. It has lots of amazing features. Its unique non-slip material gives you phenomenal gripping power and control, while its impressive design applies pressure in three directions, which helps the wood pieces glide smoothly across the surface without any chance of kickbacks. This gripper is also quite versatile, along with table saws; it may also be used when using bandsaws, router tables, jointers, and more. Other qualities worth mentioning are its adjustable center leg, easy-grip handle, easy-to-clean design, nice bright color, and great balance support.
20. STANLEY Chisel Set
This classic-looking chisel set of 5 will make any woodcarver happy. The blades of steel are lacquered to prevent corrosion, and the handles are made of strong hardwood, making the hand tool set a durable, long-lasting item. They are comfortable to grip and offer great precision with their superior blades, having micro-grind sharp tips. The set of 5 different shaped chisels comes with a high-quality leather pouch to keep them all together. So don't miss out on this classic set.
21. IRWIN QUICK-GRIP IRHT83220 Clamp Set
As the name suggests, these are clamps that offer a quick grip. They are very easy to use; you can even use them with only one hand. The Irwin quick-grip clamps are also surprisingly pretty lightweight compared to others. They are easy to find, inexpensive, and work well in compact spaces, so it might just be what your gift receiver needs if he/she has a limited working area. These clamps are designed to be so easy to use that whoever has them is most likely to start using them on a daily basis, ditching whatever he/she was using previously.
22. Bosch 3-Piece Self-Centering Drill Bit Set
This bit consists of 4 impressive attributes. The first is its stable construction; its self-centering design offers great precision, preventing any looseness. Secondly, it has a fast and convenient change mechanism. The third quality of it is how compatible it is with most of the drill drivers. The fourth is the hex shank that fits 3/8 in. and ½ in. drills. This bit set isn't playing around; it is designed to offer quick and stable drills; in fact, the Bosch drill bit set is 33% faster than its competitors.
23. Honeywell Hearing Bands
Proper and effective protection equipment is a huge and important part of woodworking. Hearing all those loud power tools closely all day may damage one's hearing in the long run. Thus these bright-colored comfort hearing bands are a nice and thoughtful gift to give to a woodworker. The Honeywell hearing bands will come in a set of two and offer an adequate amount of noise reduction.
24. DEWALT DPG82-11C Safety Goggles
Continuing with protective gear gift ideas, the last one on our list is Dewalt's anti-fog safety goggles. The design has been paid a lot of attention. Not only is it anti-fog (which is already a fantastic and a highly important feature to have), but it is also anti-scratch and has a soft rubber gasket seal that protects it from splashes, dust, and debris.
Additional comfort features include a low ridding frame to avoid headgear interference and an adjustable cloth head strap for snug and custom fitting.
Conclusion
There's something so special about wood and its sturdiness that can appeal to almost anyone and the primal feeling of craftsmanship it invokes. It's no wonder that woodworking is such a popular hobby.
We hope that we have helped you find what you were seeking, whether it was to find a woodworking idea to create a gift or to find a suitable gift for a woodworker.
Please feel free to leave a comment below. We'd love to hear your thoughts!
Other Recommendations
I am a woodworker with over 21 years of experience crafting everything from furniture to ornamental pieces. I take pride in my ability to bring out the beauty of the wood I work with, creating unique and lasting objects. My passion for woodworking has been a life-long pursuit and I strive to push myself further and further with each new project. I am dedicated to the craft and take great satisfaction in the final product that I create.Read More.