A Dremel is a great tool that lets a woodworker truly be creative and add a vast range of intricate designs and patterns to his/her wood pieces. We have this amazing wood carving ideas with Dremel that allow one to perform so many different functions with it, such as carving, engraving, routing, grinding, sharpening, cleaning, polishing, cutting, and sanding. However, to reap all the benefits of such versatile tools, you need to master how to use them, and that is best achieved by practice.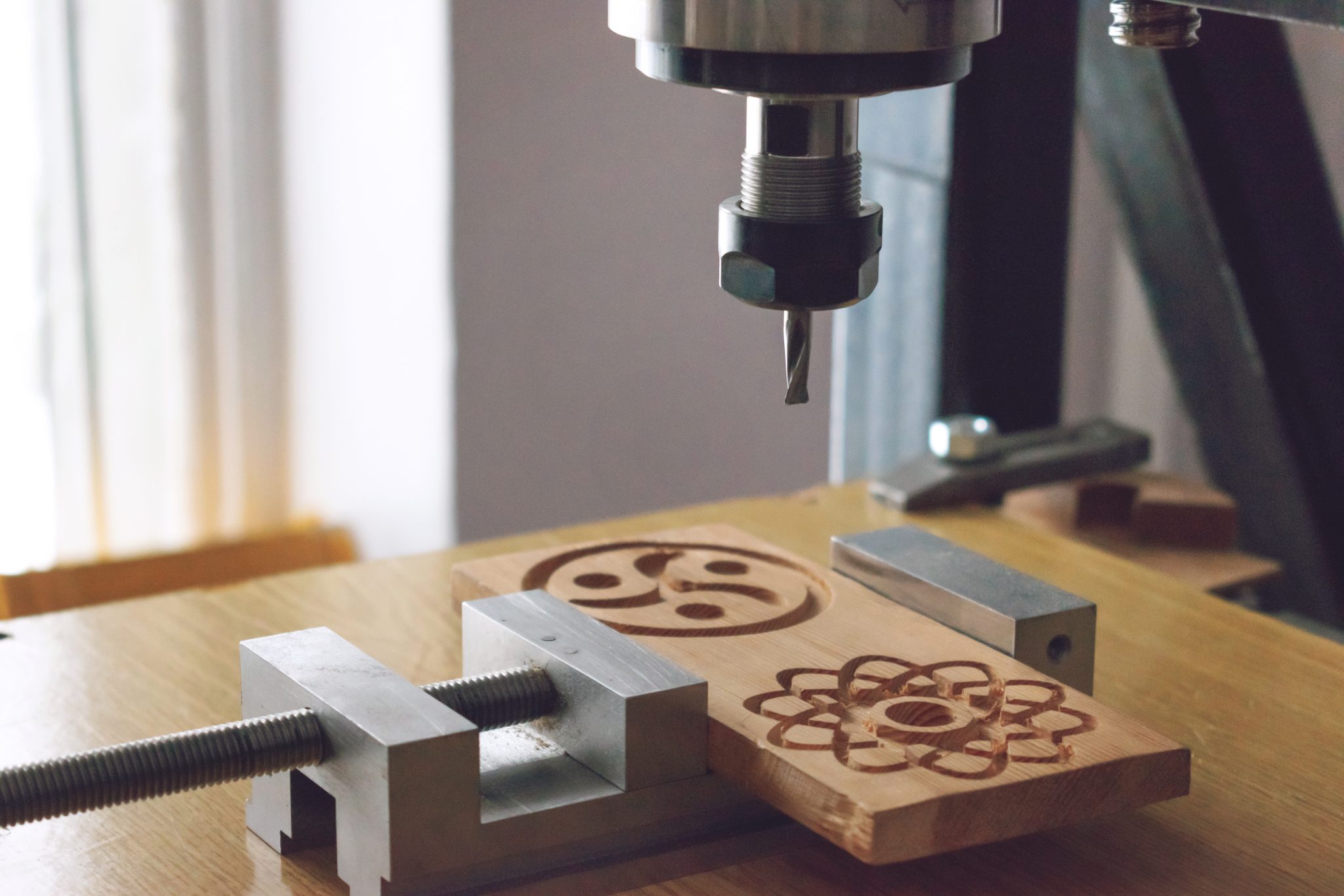 If you are new to woodcarving and are looking for ideas to practice on or even if you are a professional and are seeking out some new inspirational ideas; we've got you covered in either case.
First, we'll look at 20 different wood carving ideas using a Dremel, then later we'll explore some useful FAQs you may find helpful. So finally let's start:
20 Wood Carving Ideas With Dremel
1. Leaf Sconces
Our first idea is of a wall-mounted leaf-designed candle holder. A lit tealight candle placed in front of the leaf, on its tray, accentuates the intricate details of the leaf, adding a golden hue to the light-colored wood.
To create this elegant-looking wall accent, you'll need to print out a maple leaf design and use it as a guide to carve out the pattern on the wood itself. You may find the pdf pattern and tutorial on how to make this leaf scone with pictures and clear instructions, on the website, Woodworker's journal. The guide is posted by a woodcarver with the username, Journal Staff with clear-cut and well-explained directions.
2. Carved Wooden Dragon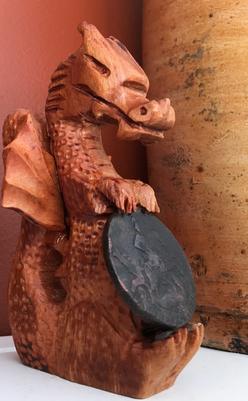 This small wooden sculpture of a dragon is a great decoration piece that can be easily displayed in your living room and will definitely be able to impress any guest visiting your home. Though the particular design of the dragon we're recommending was intended to be a decoration item, the small-scale size of the magnificent dragon means that it can also be given to a child as a gift. However, you may create it in any size you like. Another great thing about this design is that it looks great in all different colors of wood, whether it be beige, brown, red, or any other color else.
You can find a video tutorial on how to carve this wooden dragon's figure on the website, DIY Easy Crafts.
3. Wooden Owl Pendant
If you're interested in carving out a wearable. You should really give the owl pendant a try. This small wooden owl's unique design looks mystical and a highly creative piece of art. Plus, for this project, you only need two power tools, a Dremel and a grinder.
Jonas Olsen Woodcraft, a channel on youtube has a great tutorial on how to create this owl pendant yourself, the close angle of the camera clearly catches and shows all the tiny details as the piece is being carved. The description box below also includes the names of the tools being used in the video.
4. Small Owl
Coming back to decoration items, next on the list is an owl carved into a piece of a tree branch. This is an absolutely amazing piece. Unfortunately, you won't be able to take any kind of help from a printed pattern for this project and will have to carve out the owl completely free-handed, which means this project is more suitable for someone with more experience with the craft and the various different power tools required for it.
If you wish to check out the tutorial on how to make this small and charming owl, watch the video, 'Owl driftwood carving with Foredom and Dremel', available on the youtube channel, 'CarvingandSuch'.
5: Trinket Box
Well, boxes are quite an underrated item; what would we ever do without them? With that being said, pretty little boxes are on another level, with a trinket box being the supreme of all. They have this vintage, long-lasting and sentimental feel that takes them to the top tier level. The trinket box we are about to suggest has a glass fitted in the middle of the lid's frame. You may engrave anything you like behind the glass, and it will show up beautifully on the front of it.
In order to make this trinket box, follow the video tutorial titled as, 'Hand Engraved Walnut Trinket Box', posted by Lazy Guy DIY. The instructions are well explained and easy to understand.
6. Lettered Signs
Word Carvings such as love and faith are a pretty common household hanging decoration item. You must have come across these a billion times. However, being the artist yourself you may carve out whatever word you fancy and the best thing is that this project is super simple and fast.
The youtube channel, Cornelius Creations has an extensive guide available on their youtube channel. The video titled, 'How to Wood Carve/Power Carve & Stencil Letters' has very good step-by-step instructions that are perfect for a beginner to be able to follow.
7. Celtic Designs
You can always choose to take inspiration from ancient celtic art to create nice interesting patterns for your projects. There are many fantastic designs to choose from. They typically feature interlace, knots, spirals, crosses, key patterns and zoomorphic figures; avoiding straight, simple lines.
A great video with a clear and helpful demonstration on how to carve out a Celtic design on wood, is the tutorial posted by Cornelius Creations. In the video titled, 'How to Wood Carve/Power Carve Designs With a Dremel', he explains each and every step very thoroughly, making it into a beginner-friendly guide.
8. Flying Horse Relief
The majestic horse with wings is the ultimate symbol of freedom, with its origin found in Greek mythology. It's an amazingly popular art figure often seen in display items. If you want to create something more challenging you can carve this design on a blank of wood; the intricate detailed carving required for the horse and its wings is no easy feat.
If interested, you may follow a tutorial of relief carving, uploaded by the channel, 'StuffUCanMake'. The video is titled, 'Wood carving | Carving a flying horse relief on MDF using a dremel rotary tool'.
9. Fish Relief
This is another project involving relief carving, this time about a fish. Fish figures are even more popular than almost all of the ideas mentioned above, especially in woodworking projects. There is a vast range of variety in regards to different designs of a fish, ranging from the simplest form you can imagine to quite complex sculptures of art with a lot of intricate details.
If you're leaning towards the latter, you can check out the video tutorial titled, 'Wood carving | Carving a fish relief on MDF using a dremel rotary tool', that has been posted by the channel, 'StuffUCanMake'.
10. Deer/Reindeer Relief
If you're interested in relief carving but aren't interested in the two suggestions above, you can opt for this idea instead. This project is about craving a deer or reindeer's head in a flat piece of wood.
In order to create this design for relief carving, check out the tutorial available on youtube, by the channel, 'The other Finnish guy'. The short video demonstrates how the owner of the channel carved out a simplistic yet charming piece of art on a piece of willow wood.
11. Wooden Spoon
Next on our list is something useful and practical, something that will help you rather than be a decoration item; we're referring to a double-ended spoon. One side has a big spoon and the other side has a small spoon. This spoon designed for easy measurements really does make a difference.
If this wood carving project piques your interest, check out the step-by-step guide available on the website named, Dremel. The guide is very well written, with thorough and clear instructions that are easy to follow.
12. Wooden Bowl
While plain simple wooden bowls have their own modest charm with the wood's natural grain giving it its beauty, you may always add your own touch and display of creativity by carving different patterns on the outside on it using a dremel.
Also, if you need an alternative way to make a wooden bowl without using a lathe at all, you may check out a tutorial by the channel, Hans Notion. The youtube video shows how to create an impressive-looking bowl with intricate details and patterns, from start to finish. The process is time-consuming, but the result is well worth it.
13. Wooden Sign
There are various reasons why one may need to put up a sign, perhaps you need one to put up in or outside your house, or maybe you need to use it in your shop; signboards are a necessary item that may serve multiple purposes. Plus they're typically easy to make too, without complex designs required.
If you want a beginner-friendly step-by-step tutorial on how to engrave a sign on a piece of wood, we recommend checking out the excellent guide available on the website, Home Beautifully. It has an in-depth written tutorial with a lot of pictures for better demonstration.
14. Cane/ Walking Stick
Yes, you read that right. Walking sticks or canes do not need to be plain and simple; using your dremel you can carve out interesting and unique designs in them and make them into a cool accessory for whoever that uses them would feel good about.
If you wish to truly create something impressive, head over to the youtube channel named, 'Carving Fusion By : Jordy Johnson' and follow the tutorial with the title, 'Carve a walking stick 2019, Wood spirit walking stick carved with dremel flex shaft and kutzall'.
15. Wood Spirit
The history of wood spirits dates a long way back and has been part of several different cultures. However, they are still quite popular and are often kept in the house to signify wisdom, prosperity, humor, good health and good luck.
If you want a beginner-friendly guide for this project, go to the youtube channel, 'Carving Fusion By : Jordy Johnson' and follow the elaborate step-by-step tutorial uploaded there to help completely new woodworkers carve out a wood spirit.
16. Tree Carving
You can carve anything you wish, even a tree; after all wood carving is an art and we have taken inspiration from nature for our art since the beginning of time. Furthermore, there are many different types of trees with differing forms, so you can play around with this idea and choose whichever one you like.
To carve a tree using a dremel, you may check out the channel, 'CarvingandSuch'. The video, 'Tree power carving with Foredom and Dremel' will teach you how to carve a basic but admirable-looking tree.
17. Wood Rings
Carving wearables, such as wooden rings, is also a brilliant idea. Not only are they comfortable to wear, but they also look modest and represent growth and strength. Additionally, wooden rings are a great alternative for someone with a metal allergy.
If interested in this minimalist project idea, we suggest following the video tutorial posted by the youtube channel, Cali Carving Club. The process on how to make wood rings using a dremel is well explained as the woodcarver creates three rings made of three different types of wood to show a variety in its results.
18. Flower Carving
Back to another nature wood carving idea, this time we are suggesting engraving flower patterns on a piece of wood. There are countless designs on the internet involving flowers. Just pick whichever one you like and engrave it to add it to your pieces of display.
If you have taken an interest in this idea, then take a look at the video tutorial posted by the youtube channel, ' Scratch'. The video is titled 'Dremel Wood Carving – Flower' and is quite short, quickly showing you the process you will need to follow to achieve what you want.
19. Skull Carving
Skulls aren't simple or a quick project to carve, there are a lot of details and curves you need to be careful about and have to get precisely right. Using a dremel for this tricky project, that needs a lot of care, is extremely helpful.
For carving a skull, take a look at the channel of Matt Carves, he has a very well organised and thorough video tutorial on youtube titled, 'Wood Carving a Skull with a Dremel'.
20. Wooden Rose
The last idea on our list of ideas is of a beautiful rose that'll never wilt. We don't even need to explain why this idea is a good option, everyone loves roses. If you carve it using a dremel, it will really help you carve out and emphasize the beauty of the rose's petals.
If you want to carve a splendid-looking rose, check out the tutorial posted by the channel, 'The other Finnish guy' and follow the instructions carefully.
FAQ
Which wood is best for carving?
The answer to this will differ depending on your skill level. If you're new to woodcarving, it is best to choose softwoods. Basswood/limewood, pine, and butternut are very popular softwoods among carvers. 

On the other hand, if you're an experienced woodcarver, you may carve out pieces of hardwood. Oak, aspen, maple, cherry, and black walnut are very desirable hardwoods used in wood carving.
How can I make my carved wood better?
You can follow some tips and tricks to make your carvings better, such as:
– Keeping your tools sharpened
– Learn how to hold your carving tools properly and get familiar with its tip or cutting edge.
– Start by making big cuts before you move to small detailed ones
– Use a burning tool to darken and add another color to your carving 
– Pay special attention to proportions and angles when carving faces
– Make sure you highlight all necessary or significant details to enhance the look of your carved pieces
Also Read: Best Wood for Carving
Conclusion
We'll finish this article by reminding you to always remember to wear your protective equipment when using a power tool. There is a lot of wood dust flying around when the rotary tool, dremel, is being used. You need to protect yourself so that you don't end up inhaling the wood dust. It can cause several different help issues depending on what type of wood it was. So just keep that in mind whenever you're carving out your desired projects. Finally, thank you for reading and good luck.
Other Recommendations:
I am a woodworker with over 21 years of experience crafting everything from furniture to ornamental pieces. I take pride in my ability to bring out the beauty of the wood I work with, creating unique and lasting objects. My passion for woodworking has been a life-long pursuit and I strive to push myself further and further with each new project. I am dedicated to the craft and take great satisfaction in the final product that I create.Read More.