Woodworking is a great skill to have, however if your equipment such as lumber and tools aren't kept organized and easily accessible, this fun craft, like many other things, can become quite chaotic until eventually, it'll start to feel more like a headache instead of something you actually enjoy.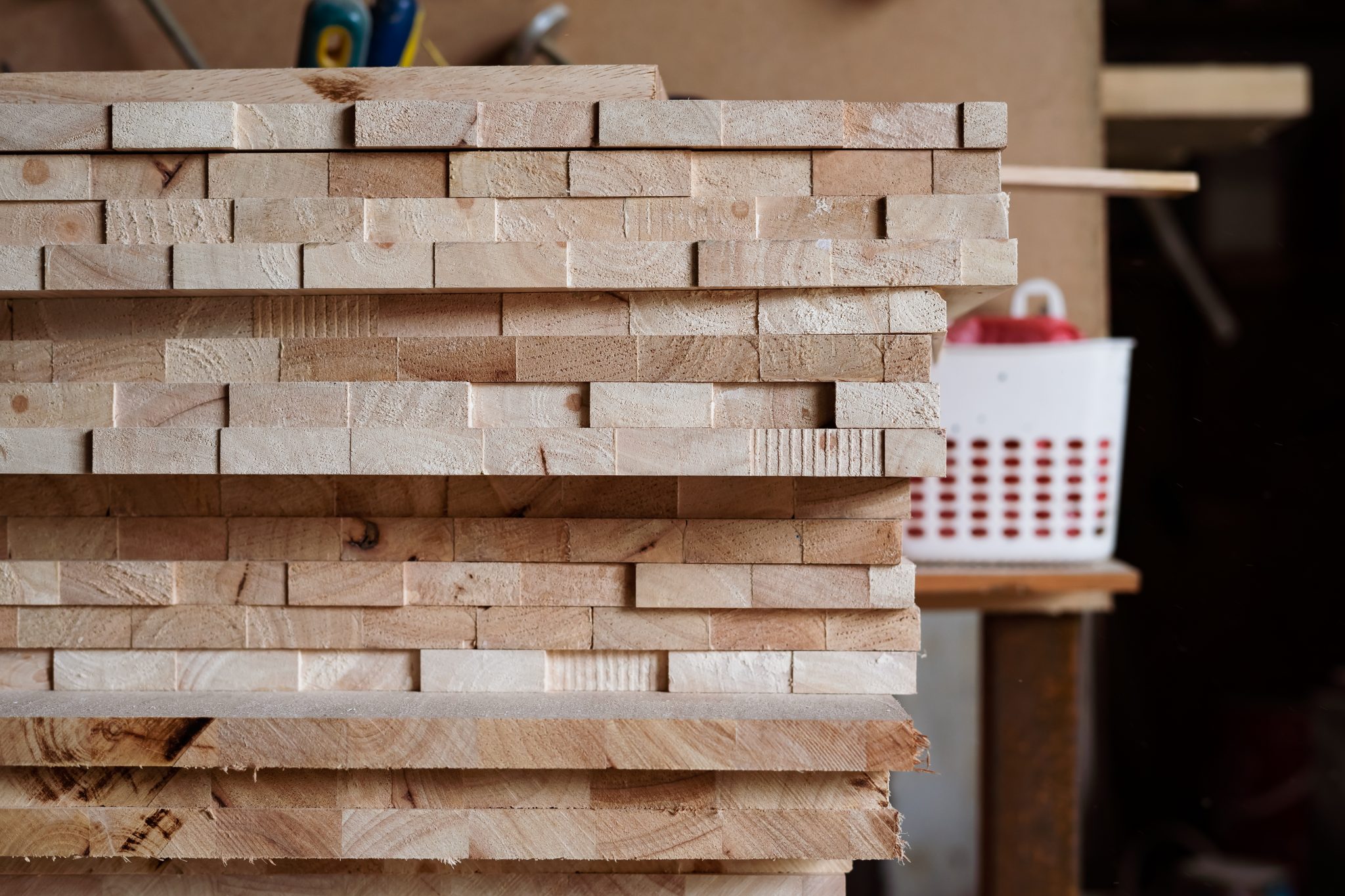 In order to prevent that from happening and keeping your life easier, you should look into several different storage options. This article will explore 2 different types of plywood storage ideas. First, we'll discuss 10 vertical storage idea plans, then we'll discuss 3 horizontal ones.
Storing Plywood Vertically
1. Vertical Plywood Storage Rack
First on our list is a vertical storage rack designed by 'Jay's Custom Creation'. Their website includes a video and well written guide on how to achieve the desired goal, with many clear pictures for better and clear demonstration. The rack will fit well into a corner of your workshop or garage, without taking up much space or being in the way. A minimalistic yet effective design.
2. Ultimate Lumber and Plywood Storage Cart
Some people might need a storage option that includes something mobile and easy to move. Using a cart for storage is a great way to help with that. If you require and have the space for a large storage area with multiple compartments for organization, you could check out the plans for Ana White's ultimate lumber and plywood storage cart. She has an extensive guide on her website to help you build one, just like her, for your own workshop.
3. Plywood Storage Rack
Another portable storage rack; however, this one's design is quite slim. It's mainly designed for storing sheets, boards, storm windows, paneling, drywall and any other large flat items that you wish to fit there, in the two slots designed for it. This rack's design also includes four small sections in the front for storing sticks or small pieces of wood. If interested in this smartly designed storage rack, head over to the website, Family Handyman. There isn't a video available, however, the tutorial's instructions are well written and clear, with a lot of labelled pictures for better understanding.
4. Wall-Mounted Plywood Storage Rack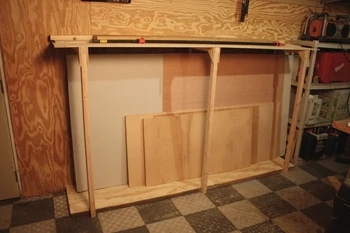 This rack consists of a quite bare looking frame, which is fitted against the floor and wall. The rack has one primary section that can be used to store plywood, drywall, plastic laminate, MDF, HDF or OSB. However, as it is covered with a plank on top and the bottom, the top can be used as a shelf to keep anything else you want. This rack is suitable for someone with minimalistic needs; who has a small workshop and doesn't have a lot of lumber that needs to be stored. If this sounds like what you are looking for, you can check out the extensive plan on how to build it, available on the website, Extreme How-To.
5. Plywood and Lumber Storage on Wheels
Back to mobile wood storage options. This rack's design looks like a cabinet, but without doors. It looks like a long slim cupboard with four different sized sections for sorting out your different sized lumber sheets, instead of cluttering them into one area. The finished project looks very neat and organized. If this one piques your interest, you can look at the tutorial 'DIY Storage for lumber (DIY Woodworking Shop project)' on youtube, uploaded by the channel 'DIY Creators'.
6. Easy Plywood Storage Rack Swings Out
If you don't wish for a fully movable storage option, but still want a space-saving smart design, you can decide to install a rack that is attached to the wall with hinges on one end, with the other end having wheels that let it swing in and out. It's a modest-looking, easy-to-build design that does its job properly. The plan originally had only one section for storing large sheets; however, another shorter section can easily be added to it if needed, when building it or even later on. If interested in creating this for your workshop or garage, go to the channel, The Evening Woodworker, on youtube and follow the tutorial available there.
7. Huge Plywood Storage Rack
If space isn't a concern and you need a really large storage option then perhaps this idea is what you need. The design consists of 7 quite tall and deep compartments for vertical storage, two large ones for large sheets, another two for sheets that are a bit smaller than those, and then three sections for even smaller pieces. It's not an easy or quick project, however, if it suits your requirements, then you can check out Nathaniel Potter's youtube channel. He has a step-by-step tutorial on how you can create this 'Ultimate Plywood Storage!'.
8. Plywood Storage Pod
If there is no possibility of you being able to find enough wall or floor space in your workshop or garage to create any of the storage racks or carts ideas mentioned above, then you can opt for this outdoor storage option instead. A channel on youtube named, diyVT has the answer to this problem. Their video titled 'Plywood storage solution' shows a video on how to create a very sturdy shed, with a vertical frame screwed against the outside wall of your home, in order to provide a storage area for lumber sheets of various sizes, long and short. It is open from only one side with one main area for sliding in and out the sheets.
9. Mobile Plywood Storage Cart
This is a simple storage cart that is pretty straightforward, in appearance and construction. It is made using two by fours and is assembled together by simple butt joints. The cart consists of two sections that are capable of holding up to a full 4′ x 8′ sheet of plywood. If interested, check out its tutorial available on the youtube channel, Andersen Wood Crafts. The tutorial has clear instructions, useful tips and helpful explanations.
10. Space-Saving Plywood Cart
We'll end this section with another swinging-out cart, however, this one's capacity is more than the one mentioned above on no.6. Which one you choose out of the two, depends on your needs and preference. This one looks quite neat and can handle pretty long sheets or boards, while the other is more suitable for someone who doesn't require that much storage space or doesn't typically store large sheets. The material and design, are different too. So make sure you consider and check out both if you are interested in the swinging-out designs. You can check out this one's tutorial on the youtube channel, The Wood Whisperer.
Storing Plywood Horizontally
12. Overhead Plywood Storage Rack
Although wall-mounted racks and carts on casters do give you easy access to your stored lumber, perhaps there are pieces that you know you won't need anytime soon and are just taking up valuable space in the workshop or garage. An overhead rack can really solve that issue. You can quickly build a simple, inexpensive storage rack, that is completely attached to the ceiling, by carefully following the video tutorial available on the youtube channel, Bear Builds.
13. Horizontal Plywood Storage Rack
If you have a lot of space and need to store a lot of large sheets, then you may try building a strong and durable rack made of structural steel pipes. Someone with the username, Dovetail65 posted instructions on the website Festool Owners Group, that will help you create this permanent rack for your workshop. It can easily hold up to 8000lbs and more. Although this is quite a heavy-duty and long-lasting option, make a proper estimate of the costs before you make up your mind, as this isn't exactly an inexpensive option.
14. Easy Plywood Overhead Storage
We'll finish this off with a quick, easy overhead rack idea. If you really aren't concerned about aesthetics and are just looking for a swift, simple and cheap solution to clean up the clutter in your workshop, then you can set up this storage option. The design plan consists of a wooden rack, installed to both the wall and ceiling on either side. Make sure to construct it properly following all instructions to make sure it's sturdy and won't fall down due to the weight of the lumber you fit inside. You can find the tutorial on how to build it on the youtube channel, The Christmas Carpenter.
Conclusion
Having a lot of scrap wood left from previous projects is a good thing, it shows you're working hard. However, to make the most of your lumber, you will need to keep them organized so that you can utilize them whenever there is a chance. Everything jumbled up together in a pile will not only make it hard for you to figure out what you have laying around in your workshop, but may also damage your wood. Thus, it is quite important to have proper storage installed. We hope we have been able to help you decide or get an idea regarding what type of storage option you want and need.
Please feel free to drop a comment down below if you try out a storage idea from the list above. We'd love to hear about your experience. Good Luck!
Other Recommendations
I am a woodworker with over 21 years of experience crafting everything from furniture to ornamental pieces. I take pride in my ability to bring out the beauty of the wood I work with, creating unique and lasting objects. My passion for woodworking has been a life-long pursuit and I strive to push myself further and further with each new project. I am dedicated to the craft and take great satisfaction in the final product that I create.Read More.