This is a matter of security for some and a matter of keeping livestock fenced in for others. But for all, a good gate latch is important. There are many commercially available gate latches, but if you need them, there are numerous DIY options available as well.
We will explore some of the best homemade gate latch ideas for you to try out. So get onboard:
Homemade Gate Latch Ideas
1. DIY Magnetic Gate Latch
This gate latch system will sort of work like an automatic one that will cause the door to close itself due to the pull of the magnets instead of always swinging wide open in the opposite direction. This is a great idea if you have kids or animals that could potentially get out.
To create this DIY magnetic gate latch yourself, you will need to buy a pair of inexpensive pull retrieving magnets and a roll of expensive Teflon tape. The high-quality chemical-resistant film tape will be used to reduce the attraction between the magnetics so that you may be able to open and close the gate without difficulty.
The DIY gate latch's design isn't very complex, and you'll be able to install it in no time. If this latch's design meets your needs, head over to the youtube channel, 'bounder97', and follow the video tutorial 'DIY (magnetic gate latches), which has very clear instructions on what you need to do.
2. DIY Chain Gate Latch
This design is a lot more common and secure. It works with a long chain that is fixed on one side of the fence and can be looped around a handle to be attached to the door, preventing it from opening. It's not the most aesthetically pleasing design, but it gets the job done.
You won't need much (excluding the tools required) for this project, just a few screws, a metal chain, washers, and a piece of metal.
To learn how to create this chain gate latch, check out the tutorial uploaded by the youtube channel 'Off-Grid Oregon.' It will show you how to make it using a short length of chain in a simple but well-explained video.
3. DIY Self-Locking Gate Latch
This latch system is installed on top of the gate as compared to others that are fitted in the center of the gate's length. It is also a very simple and neat-looking design that works very well by hooking the gate in place. You'll need only a few materials (a piece of metal, a few nuts & bolts, and a spring, to be precise) for this project that you'll have to shape into what you need.
So if this self-locking latch sounds like what you are looking for, be sure to check out the short video tutorial, 'DIY Gate Latch – for my garden fence' on youtube, posted by the channel homesteadonomics.'
4. Rustic Homemade Gate Latch
This idea is of reusing old materials lying around in your garage. The design consists of repurposing an old rusted horseshoe; however, you may use anything similarly U-shaped and attach it securely to a turned L-shaped piece of metal that has a hinge attached to it on top of the curve.
The turned metal will be placed vertically on the wall with the hinge resting horizontally between two bricks; this will allow the horseshoe that's attached to it firmly using three bolts to be easily lifted up and dropped down in order to open and lock the gate.
If this latch idea is something you are interested in trying out, you may watch the video titled 'Homemade gate latch' on the youtube channel, 'Back to the Basics 101'. Watch from 1:34 to roughly 4:23 to get a good and close demonstration of the gate latch's mechanics.
5: Invisible Magnetic Gate Latch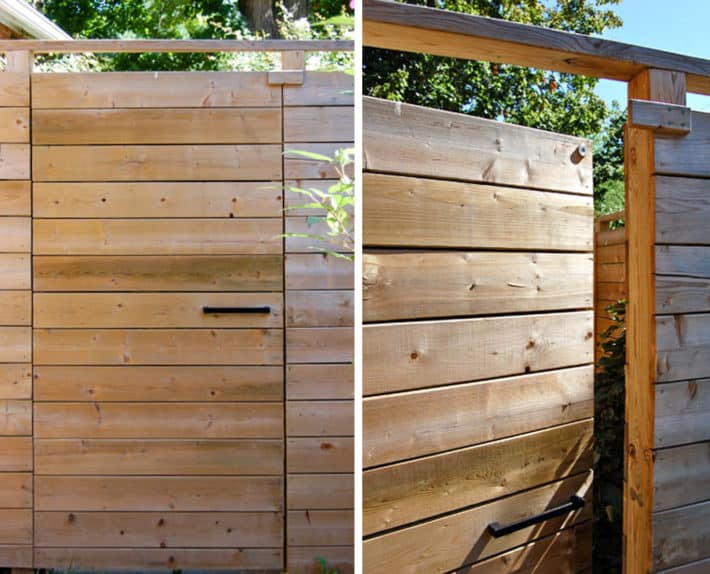 While this idea isn't exactly 'invisible,' it comes very close. This design is unique and very sleek-looking; it is sure to add a touch of sophistication to your gate. For this design, you will need a rare earth magnet, magnet cup, washer, Forstner drill bit, drill, and scraps of wood the same shade as your fence. The magnet used for this design is incredibly strong, so you'll have to be very careful with it.
The website 'The Art of doing Stuff' has a great tutorial on how to make this, with clear instructions and pictures, if you're interested.
6. Concealed Gate and Latch
This idea isn't only for the gate latch but also for the entire gate setup. The system is installed on the inside so that nothing is shown on the outside; you can barely even see the gate. This design may be a little trickier to figure out or more than what you require at the moment, but you may always improvise according to your needs and situation.
Overall this entire gate system is designed to be quite strong and sturdy so that it will be able to tackle any storm, its aftermath, and also be rust-resistant. The latch system works by reaching over the fence and finding the knob of a long metal/steel/iron pipe that is attached to a long plank of wood, which will slide in and out from between the gate's wooden boards and metal pipe structure when the knob is moved; allowing one to lock and unlock the door.
You may find the complete guide posted by 'Bales' on how to create this 'Concealed Gate and Pivoting Slide Bolt' on the website Instructables.'
7. Simple Wooden Gate Latch
If you're on a really tight budget or require a quick fix, this gate latch idea may be exactly what you need. This latch's design is made using only scrap wood, a few screws, and a washer. The lock works by attaching a long wooden board to the fence that swivels and goes through the post on the gate, made of scrap wood.
If this simple and basic DIY gate latch system is what you wish to go for, check out the video tutorial titled 'Making a Gate Latch' uploaded by the youtube channel 'Gramma Rose's Homestead.'
8. Cheap Double Gate Latch
This gate latch is designed for wide double gates that need a strong latch to keep them together. As usual, the design is made of two parts, the first being a long metal rod (with a handle welded on it) that's attached to one gate with the help of hole straps and the other part being only the hole straps screwed on the other gate. The lock works by sliding the metal rod in and out of them to lock and open the gate.
So this is an inexpensive DIY gate latch system you can make for your double gate. If this is what you need, head over to Anatolii Gordiienko's youtube channel and watch his explanation of how to create and install it.
9. Easy Homemade Auto Gate Latch
This automatic gate latch system is installed on both sides of the gate. The latch consists of two 9-inch angle irons with bolts and a spring. You are able to open the gate by pushing one side of the angle iron inwards to press it into the other one, making way for the gate to open; once the angle iron is released, it will spring back into its place slightly in front of the gate, locking it up again.
If this idea has piqued your interest, you may check out the video titled 'Easy homemade auto gate latch' on the youtube channel 'Spring Orchard Farm' for a quick demonstration of how it works.
10. Gate Latch for a Steel Gate
This design is for those of you who may have a steel/metal gate. The idea is to first weld two conduit couplers on the gate vertically and spaced apart, then dig in and insert a pipe in the ground underneath it aligned with the holes on the gate; after that, fit inside them a metal rod (that is curved on the top to act as a handle) to hold the gate in place.
In order for the gate latch to work, one will have to pull or slide the rod in and out of the pipe placed inside the ground.
To create this gate latch, you'll have to check out the video tutorial made by the youtube channel 'Koality of Life.' In the video titled 'Simple gate latch for a steel gate,' you'll be able to see and learn how to install this basic latch system.
11. Hands-Free Gate Foot Latch
As the heading explains, this gate latch system works so that you don't have to use your hands to open it; instead, you just place your foot on a pedal on the ground in order to open the gate; however, keep in mind you'll have to use your hands to close it back, so it's not a 100% hands-free system.
If this innovative design is something you're interested in, then check out the short and quick tutorial posted by the youtube channel 'Rail and Oak' to learn about the build-up process.
12. DIY Child Proof Gate Latch
Not only is this latch option childproof, but it will also allow you to open the gate yourself from the outside in order to come in, instead of having to wait for someone else to open it for you. The design is quite simple and won't require any metal welding, only some drilling, woodcutting, and gluing.
To learn how to create a nice, simple, and cheap gate latch, watch the thoroughly explained video tutorial posted by the youtube channel 'DIY Home & Garden Projects.'
13. Rustic Wooden Barn Latch
This is another gate latch idea consisting of only wood. It uses the common locking system we're used to seeing with most metal or steel locks; however, this one is made entirely out of wood, so naturally, there are a few differences in the design.
This latch is a very easy and quick project; it is also more secure than the gate latches that can be opened from the top.
If interested, we highly recommend you watch the tutorial on how to create it by reusing old wood on the youtube channel 'Simon Lambert Outdoors.'
14. DIY Gate Door Latch Lock
In case you are looking for a truly secure latch system that will let you place a proper lock on it, then this option is the one for you. This design is easy to make, and you will only need an angle and flat bar as material to create it. There will be some welding involved, but it isn't complex, and as long as you follow the tutorial correctly, everything should be fine.
In order to create it, check out the tutorial uploaded by the youtube channel, 'Jimmyr.'
15. Simple Homemade Gate Latch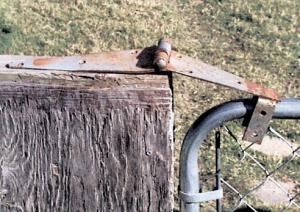 This idea's concept consists of a metal bracket welded to the end of a barn door hinge that simply folds down over the top of the fence in order to hold it in place. The advantage to this system is that it can be easily removed by anyone on either side of the gate by just flipping the bracket out of the way.
To learn how to create this gate latch, check out the website 'farm show' and take a look at its material on homemade gate latches.
16. DIY Self-Latching Gate Latch
Automatic or self-latching gate latches are a lot more convenient since you don't have to worry about forgetting to lock the gate after you've gone through. This design is more complicated and will require more effort than the others, but the end result will be totally worth it as you'll have a high-quality and durable product.
You'll need some metalworking skills as well as some tools in order to create this automatic gate latch. It is recommended that you check out the video tutorial 'DIY Automatic Lock Door| How to Install Self-Latching Gate Latch' posted by the channel 'MED'Z CREATION' in order to learn more about it.
17. DIY Sprocket Gate Latch
This design is not only easy and quick to make, but it is also quite unique and impressive. It works with a sprocket in order to automatically lock itself into place. You will have to lift the wheel, attached to a wall with hinges, to release the lock and open the gate.
If this is a design you're interested in, then we recommend you watch the video tutorial 'Cool Idea | DIY Invention | Sprocket Gate Latch | Gate Lock' uploaded by the youtube channel 'VTechnique'.
18. Ring Latch for Gate
The last one on our list also features a self-locking design; however, it uses a large ring instead of a wheel. The concept is very similar to the sprocket gate latch, but for this, you will only just have to push the ring up to release the lock below. The bar/rod attached to the gate will automatically slide back into place and lock the second the door is shut close.
This idea has a simple design that you can easily learn how to make by watching the video tutorial uploaded by the youtube channel 'SImple Craft.'
Conclusion
There are many different ways to make a gate latch for your home. It all depends on your personal preferences and the level of security you're looking for. If you want something that is quick and easy to make, then we recommend one of the simpler designs.
However, if you're looking for something more secure, you might want to consider the designs that feature a complex locking mechanism. 
Whichever route you decide to go, we hope that our list has given you some inspiration and that you find the perfect gate latch for your home. Thank you for reading!
Other Recommendations
I am a woodworker with over 21 years of experience crafting everything from furniture to ornamental pieces. I take pride in my ability to bring out the beauty of the wood I work with, creating unique and lasting objects. My passion for woodworking has been a life-long pursuit and I strive to push myself further and further with each new project. I am dedicated to the craft and take great satisfaction in the final product that I create.Read More.