There's definitely a lot to consider when it comes to appropriate flooring for your barn. You'll want something comfortable and suitable for the livestock you'll be keeping inside your barn, but also something that's satisfactory according to your requirements and budget. This article will look into the various flooring options available for your barn and also shed light on some frequently asked questions that you may find helpful.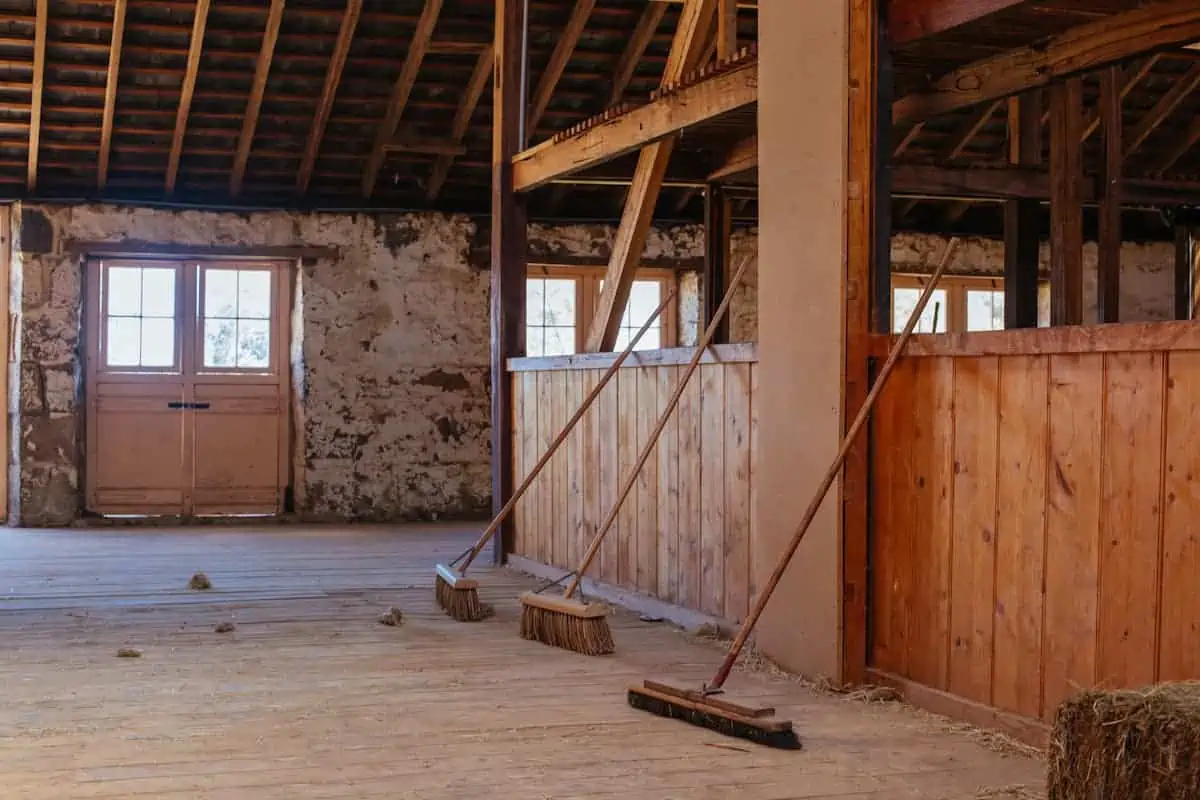 Flooring and Ground Options for Your Barn
1. Gravel
This flooring option is a great alternative if you don't wish to have a soil floor. Its maintenance isn't expensive, however, keep in mind that it will need to be leveled frequently or even get renewed, with a fresh layer of new gravel on top, from time to time; though this will become less and less needed as the years go by. Gravel flooring helps with slowing the erosion of dirt and getting rid of the moisture without any issues as long as it is leveled properly. This option is most suitable for storage barns such as hay or equipment storage.
2. Concrete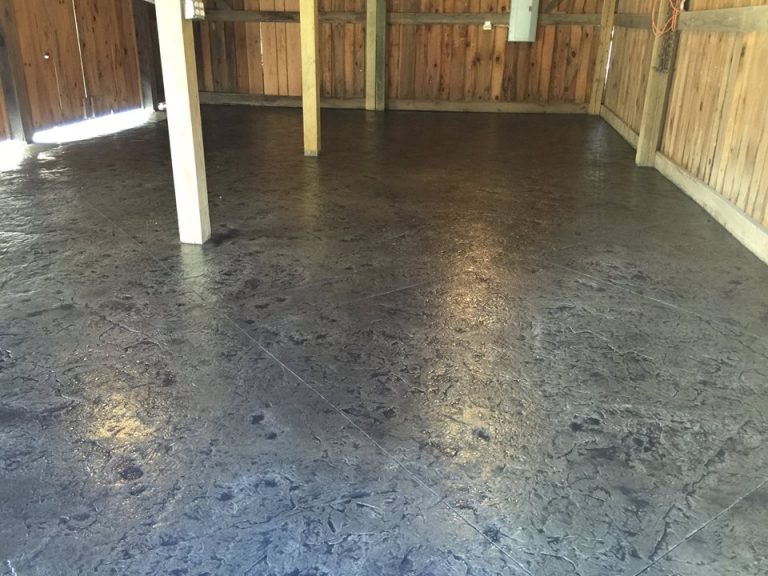 Another flooring option you could go for is concrete, however, this will require a little more investment. It is quite a common choice for all sorts of flooring whether it is for a garage, front yard, or something else. Concrete is a popular choice that is very easy to clean and will require neither maintenance nor renewal. However, it's not the best option for a barn that will house animals. Concrete is hard and also tends to get quite slippery when wet, which could lead to dangerous accidents taking place. So like gravel flooring, it's best to only consider it if you don't intend to keep livestock in that barn.
3. Stone
The third flooring option on this list is one that is aesthetically pleasing, strong, and long-lasting. Furthermore, it is available in a range of different varieties to choose from. Stone is quite a desirable flooring option popular among residential flooring, thus there won't even be any need to change or renew your flooring if you decide to repurpose the barn later in life. However, again as durable and impressive-looking stone floors are, they are also slippery, hard and expensive; things to keep in mind when making your decision.
4. Asphalt
If according to your requirements concrete flooring is the most suitable option for you, however, you are having trouble making a firm decision due to your tight budget, asphalt can be a cheaper alternative than concrete to install. However, it may prove to be more expensive in the long run due to the constant need for maintenance. Asphalt is softer, but because of this it may wear down and create gaps in which weeds would start to grow. Also, it tends to have a detectable smell, most particularly when it's recently been finished or heated. Nonetheless, if asphalt is the most befitting choice depending on your needs and circumstances, it can be a good alternative compared to many other barn flooring options for keeping livestock.
5. Wood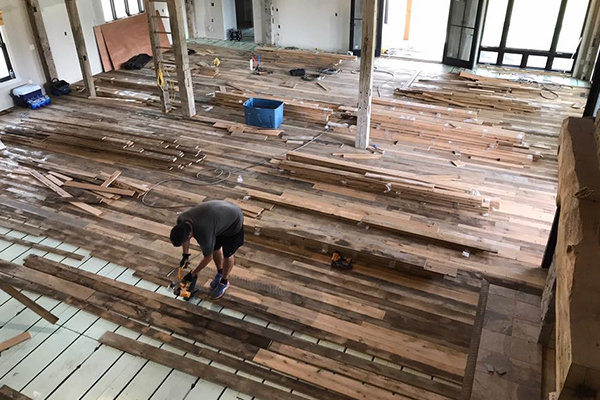 This is a flooring option that will definitely prove to be quite hard to maintain in its pristine condition. Wood flooring isn't the most durable option, it tends to soak moisture very easily and is impossible to dry, thus getting damaged quite quickly. It is also extra hard to clean as small grains and pieces tend to get jammed between the floorboards. There is no doubt that wood flooring will add and complete the whole rustic theme of a barn and is actually the traditional barn flooring option used originally. Nevertheless, it may not be the best option due to how high maintenance it is and how quickly it gets damaged. So make sure to think of how you intend to use the barn when considering this flooring option.
6. Livestock Mat
These are special types of mats designed especially for different livestock animals keeping their needs in mind, they are available in a range of specialized materials. These mats can be used for a variety of animals including dairy cows, sheep, horses, goats, and more. They are also available in different thicknesses depending on the weight of the animal that will be using them. This is most definitely the best flooring option for a barn that will house livestock as it has been designed especially for them. The only downside is that they can be quite expensive, so make sure you do your research before you make a decision.
7. Porous Choices
There are various types of flooring options that are porous in nature, which means they have tiny holes or gaps in between them. These floors are designed in such a way that they can allow liquids and other substances to pass through them easily. Porous floors are often used where there is a need for liquids to be drained quickly, and barns are one such place. They must be well-drained to keep them dry and the smell at bay, which is beneficial to the animals' health and comfort. Having said that, porous floors require greater care since they are not solid, and may shift unevenly as a result of wear and tear. Following are the most common types of porous flooring used in barns.
Popcorn asphalt
This flooring option is similar to regular asphalt, however, it has a rougher surface due to the addition of small gravel pieces, which makes it less slippery. This flooring is quite popular in barns as it offers good drainage, is inexpensive, and is easy to install. Also, popcorn asphalt is easier to clean compared to many other porous flooring options. The only thing to keep in mind is that it doesn't look as clean and presentable as the other options and may start to look worse with time.
Stonedust
This flooring option works well for livestock, it drains well, is soft and comfortable for the animals; however it's loose so naturally, it creates a dusty atmosphere and will shift around a lot. It will also become muddied if there is excessive moisture, which can be a problem in itself. You'll definitely need to get it releveled after a year or two. To improve stonedust's performance, you can add a base layer of perhaps small gravel, sand or concrete to it so it will set and stay in place better, however, this will make the floor a bit harder. Other names for stone dust include road base, washed sand, or quarry sand.
Dirt
This is the simplest, and most inexpensive flooring option for a barn, it's easy to lay down and maintain. Although it does offer good drainage and is quite soft, ideal to keep either animals or equipment; it is a bit dusty and will form mud if there's excessive moisture. You will have to ensure that your barn has adequate ventilation to avoid these issues. You can also add a top layer of straw or other bedding material to make it more comfortable and presentable. Dirt floors will need to be leveled often and replaced every few years.
Pure Sand
This is another nice flooring option for a barn as it offers good drainage, is quite comfortable for animals and won't need much bedding on top either. Although, it can become quite dusty and will form mud if there's excessive moisture. You'll also need to keep adding more sand from time to time as it will get reduced in amount when cleaned. Similar to stonedust, sand will be quite loose too and will shift around constantly, so regular levelings will be required. Sand flooring is particularly not recommended if you intend to keep horses in the barn as ingesting sand while eating off the floor can cause colic in them, also sand can be quite drying to their hooves.
Pure Clay
This flooring choice would look better than dirt, however, it's not as good of a flooring option as it can become very slippery when wet and will form deep mud puddles. It also doesn't offer very good drainage, is quite hard, and can become uncomfortable for the animals. Although it's not as popular of a choice now, it was widely used in the past for barn flooring. You can improve its performance by adding some stonedust or crushed gravel to it and keeping it clean and dry with good ventilation and regular maintenance.
FAQs
What should a barn floor be made of?
There is no definitive answer, as there are many options available, each with its own set of pros and cons. The most important thing to consider is the purpose of the barn floor, what type of animals or equipment will be kept in it, and your budget. For example, if you are planning to keep horses in the barn, then you will need to avoid flooring options that could be damaging to their hooves, such as pure sand or clay. Alternatively, if you are only using the barn for storage, then a more durable option, such as concrete, might be a better choice. Whereas a multipurpose barn might benefit from having dirt flooring to suit the needs of both animals and equipment.
Can I put a wood floor in a pole barn?
Yes, you can put a wood floor in a pole barn. However, it is important to note that wood is not as durable as some of the other flooring options and will require more maintenance. Wood floors are also more susceptible to moisture damage, so it is important to ensure that the barn is well-ventilated to avoid such problems. 

If you intend to use the pole barn for events or party hosting, then a wood floor might be a good choice for its aesthetic appeal. Just be sure to take the necessary precautions to protect the floor; however, it is not recommended at all if you plan to keep livestock. 

You may always create a good-looking yet durable floor if you first lay concrete flooring and then add tongue and groove hardwood on top of it. This way, you get the best of both worlds – a concrete base for durability and hardwood for good looks.

Conclusion
One of the most important aspects of having a barn is having good barn flooring. There are many options available, some of the most popular choices include dirt and concrete. Do your research and be sure to choose the option that best suits your needs.
Thank you for reading! We hope this article was helpful in deciding what type of barn flooring is right for you. If you have any further questions, please don't hesitate to leave a comment below.
Other Recommendations:
I am a woodworker with over 21 years of experience crafting everything from furniture to ornamental pieces. I take pride in my ability to bring out the beauty of the wood I work with, creating unique and lasting objects. My passion for woodworking has been a life-long pursuit and I strive to push myself further and further with each new project. I am dedicated to the craft and take great satisfaction in the final product that I create.Read More.